Recommended restaurant in Shinjuku this time is Ramen: Fuunji.
Ramen: Fuunji|Feature Reference

▶:Start Google Maps Here!(Smartphone)
TripAdvisor
Fuunji(score:4.5)
Restaurant's Name (Japanese)
風雲児
Business Hours
11 AM – 3 PM
5 PM – 9 PM
Category
Ramen Restaurant
Budget
¥1,000
TEL
+81-3-6413-8480
Address
2-14-3 Yoyogi | Hokuto Daiichi Building B1F, Shibuya-ku 151-0053, Tokyo
Business Holiday
Every Sunday & Holidays
Access
Shinjuku Station
Seats
15
Credit Card
Not Accepted
Smoking Establishment
Non-smoking
Appearance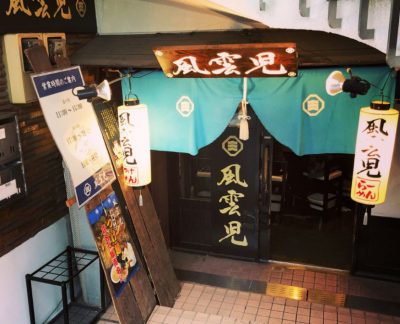 Travel time on foot is approximately 2 minutes from (Toei Subway Shinjuku Line) Shinjuku Station, and 6 minutes on foot from JR each line Shinjuku Station (South Exit or New South Exit).
Long lines always happen here in this small but undeniably famous ramen house! To avoid the hassle of lining up, it's best if you can arrive earlier than the opening time of the shop.
Ambiance
"The Counter Area"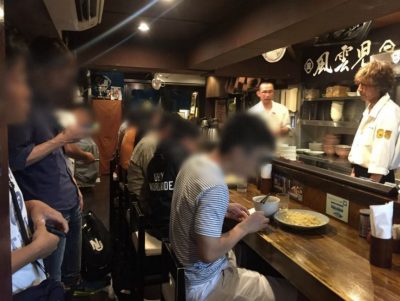 This ramen shop has a total of 15 counter seats and the dining area is indeed narrow so you'll be seating next to other customers, and elbow to elbow type of eating arrangement.
The ambiance is just like any other ramen shop with an average loudness. You can also witness people lining up at the back of the ones seating at the counter seats while eating. This is kind of style is so interesting for me. I don't know how and what to feel knowing that there is someone waiting for the turn over. Regardless of this setup, this ramen shop is truly worth the queue.
Most of their customers are Japanese "salary men" or office workers nearby and foreign travelers. Oh and nt just that, this place happens to be the favorite spot of Japan's great athletes.
Recommended Menu
The restaurant is famous for its Dipping Ramen-style or known as Tsukemen here in Japan. The perfect mix of fish and chicken broth made the soup richer in taste and extraordinary.
"Tsukemen"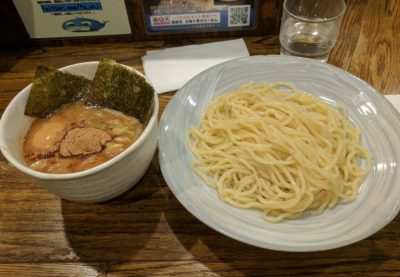 Upon securing a seat, you'll be asked if you want a medium or large portion of noodles. Voting for a medium amount here as it is already a good amount of serving unless you're really starving to death.
Additional Information
・Recommended when eating alone, with a friend, with a co-worker, and for dating.
・Unavailable for private use.
・The store closes as soon as it runs out of servings.
・Ticket vending machine is used to order.
・Cons: Narrow/Secluded space.

People's Review
The best bowl of noodles I've ever had in my life. Tsukemen at Fuunji in Shinjuku, Japan. pic.twitter.com/oKc2X2gJNX

— dan 🙌 (@dxna) August 1, 2017
My AirBNB has pocket WiFi! I can now use social media freely. I'll start with posting one of the most amazing ramens I've had (ftr, my criteria only focuses on noodles and broth).

This was from Fuunji in Shinjuku. Worth the wait. 🙂 pic.twitter.com/sy32maI2G2

— Lil | Milktea (@_lilchen) April 30, 2018
Fuunji is always the capstone to my trips, there is no good tsukemen in New York (please @ me if this changed) pic.twitter.com/0ZnRXgOobr

— DJ Baby Husband (@strikeitup) January 9, 2018
Fuunji is always the capstone to my trips, there is no good tsukemen in New York (please @ me if this changed) pic.twitter.com/0ZnRXgOobr

— DJ Baby Husband (@strikeitup) January 9, 2018
First stop in Tokyo was at the infamous Fuunji Ramen. Dipping noodles was a complete game changer. Easily the best meal I've had in Japan 🇯🇵 pic.twitter.com/zFsb4qvfdK

— Tyler (@DeathlyiAm) August 11, 2017
Tsukemen time 😍🇯🇵🍜 so delicious! #tsukemen #ramen #fuunjiramen
Hot in soup or cold dip noodle? 💛 both cause the noodle is superb! #fuunjiramen #ramen #shibuya #tokyo #japan #fatdieme