Recommended restaurant in Akihabara this time is Gyukatsu: Gyukatsu Motomura.
The restaurant's opening was last April 20, 2018. Despite being newly opened, this shop has been receiving lots of positive feedback from its recent visitors.
Gyukatsu: Gyukatsu Motomura|Feature Reference

▶:Start Google Maps Here!(Smartphone)
TripAdvisor
Gyukatsu Motomura (score:5)
Restaurant's Name (Japanese)
牛かつ もと村
Business Hours
11 AM ~ 11 PM
(Last order: 10 PM)
Category
Gyukatsu Restaurant
Budget
¥1,500 ~ up
TEL
+81-3-3526-2957
Address
1-15-18 Sotokanda | Okuyama Bldg. B1F, Chiyoda-ku 101-0021, Tokyo Prefecture
Business Holiday
None
Access
Akihabara Station
Available Facility
Free WiFi
English Menu
Yes
Smoking Establishment
Non-smoking
Appearance
"Okuyama Building outside view"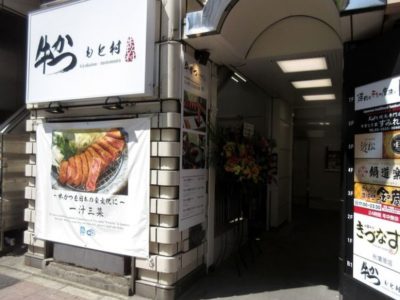 "The stairway to Basement level 1"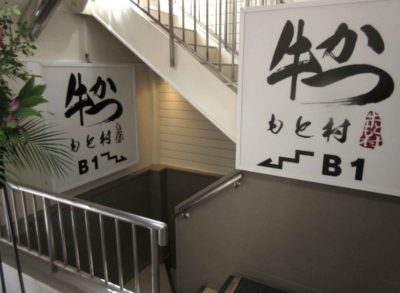 The estimated travel time on foot is 2 minutes from Akihabara Station – JR Keihin-Tohoku Line, and 3 minutes from Tsukuba express.
The exterior of Okuyama isn't new anymore but it's clearly well-maintained. You can see the stores' name occupying the basement area up to the seventh floor outside of the building. Luckily, Gyukatsu Motomura has the biggest signage with food display so it's not that difficult to find for the local visitors. As for the foreign travelers like me, it's best to check the Kanji name of the resto first not to waste time upon your visit.
Since this is a newly opened shop, the number of customers are lesser compared to other branches but it's best to come in early if you want to avoid the hassle of lining up.
Ambiance
The interior of the restaurant is beautifully designed to match the mood and the food they serve. The lighting is just dimly lit which is good for relaxation. If you are dining alone, counter seats will be the best spot. This place is also recommended if you're with a friend or co-worker, and even for dating.
Recommended Menu
Beef Cutlet and Barley Rice Set"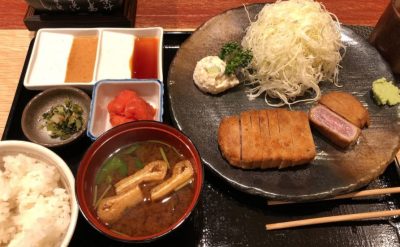 This place is best known for its deep fried beef cutlet or commonly known here in Japan as "Gyukatsu". Their beef cutlet is described as tender and juicy. It gives that satisfying taste to the customers!
Additional Information
・Recommended when eating alone, with co-worker, with friend, and for dating.
・Services offered:
Set meals available.
Free WiFi service.
・Cons: Secluded Restaurant
People's Review