Recommended restaurant in Nihonbashi this time is Motsu Nabe: Harahetta.
Motsu Nabe: Jomon|Feature Reference

▶:Start Google Maps Here!(Smartphone)
TripAdvisor
Harahetta(score:4 )
Restaurant's Name (Japanese)
博多もつ鍋 はらへった
Business Hours
Mon – Sat
5:00 PM – 12:00 MN (L.O. 11:30 PM)
Category
Motsu Nabe Restaurant
Budget
¥3,000~ up
TEL
+81 3-3662-0414
Address
2-9-9 Nihonbashikayabacho | 1F・B1F Daichi Bldg., Chuo 103-0025, Tokyo
Business Holiday
Sunday and Public Holidays (Irregular holidays)
Access
Kayabacho station
Credit Card
VISA, MasterCard, Diners, American Express, JCB
Seats
45
Non/Smoking Establishment
Sectionalized smoking
Appearance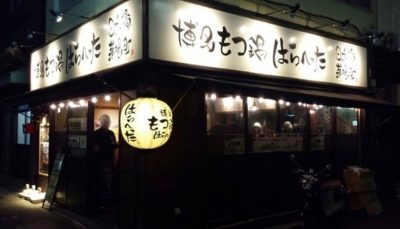 Travel time on foot is approximately 1 minute from Kayabacho Station – (Hibiya Line and Tozai Line) Exit 2.
It's appearance on the outside is a bit outdated and its pamphlets of different food menus are glued to its wall as part of the deets.
Ambiance
"Table seating"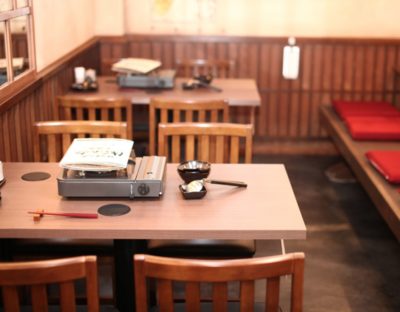 "Horigotatsu seating"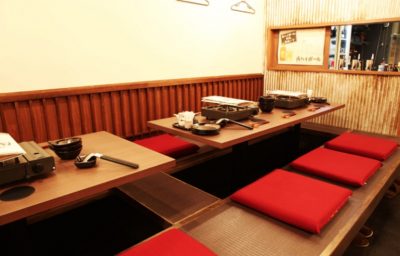 The interior design is quite impressive with such cozy atmosphere and a very comfortable dining style. This place has a total of 45 seats to accommodate a lot of customers at the same time.
It's also highly recommended when eating alone, with a group, with families, and for dating. The food menu here is really the talk of the town so expect it to be really crowded. Often times you'll meet foreigners/tourists enjoying their hot pot course!
Recommended Menu
Motsu nabe being the bestseller of this restaurant has been gathering lots of customers to come by. There are also other food menus to choose from like set meals, appetizers, desserts, and varieties of alcoholic drink.
Additional Information
・Recommended when eating alone, with friends, with co-workers, with family, and for dating.
・Available for pivate use accommodation.
・Kids are welcome (Children's dishes are provided).
・Services offered:
Drink All You Can menu.
Extended party hours up to 2 and a half hours.
the People's Review
寒いからもつ鍋🍲 醤油か味噌かどちらも譲らず。。醤油からの味噌どちらもで(笑) . . #もつ鍋 #もつ #鍋 #鍋の季節 #はらへった本陣 #冬#寒いから鍋#あたたまるぅ #food#foodpic #foodstagram #instadinner #todaysdinner #yummy#yumyum#東京#tokyo#foodie #instafoodie #instafood#もつ大好き#ここは醤油がおすすめ#九州もつ鍋 #早く帰ろう #ふわもこに会いたい #でもこれからお風呂#寒いのきらい . .
🍲 . 야식을 찾아나서 우연히 들른곳 깔끔한 쇼유국물에 보돌보돌 토실한 곱창을 향긋한 부추와 함께👍 아 녹는다 녹아💕 원조를 맛보러 하카타에 가고싶은 마음이 스믈스믈😂 . #모츠나베 #곱창전골 #도쿄맛집 #도쿄역 #니혼바시 #맛집 #먹스타그램 #맛스타그램 #야식스타그램 #줌마스타그램 #일본 #도쿄 #생활 #일상 #야식 #곱창 #博多もつ鍋 #はらへった #東京 #東京駅 #日本橋 #夜食 #tokyo #food #foodtrip #life #daily
🍲 . 야식을 찾아나서 우연히 들른곳 깔끔한 쇼유국물에 보돌보돌 토실한 곱창을 향긋한 부추와 함께👍 아 녹는다 녹아💕 원조를 맛보러 하카타에 가고싶은 마음이 스믈스믈😂 . #모츠나베 #곱창전골 #도쿄맛집 #도쿄역 #니혼바시 #맛집 #먹스타그램 #맛스타그램 #야식스타그램 #줌마스타그램 #일본 #도쿄 #생활 #일상 #야식 #곱창 #博多もつ鍋 #はらへった #東京 #東京駅 #日本橋 #夜食 #tokyo #food #foodtrip #life #daily