Recommended restaurant in Nakameguro this time is Motsu Nabe: Torigoya.
Motsu Nabe: Torigoya|Feature Reference

▶:Start Google Maps Here!(Smartphone)
TripAdvisor
Torigoya(score:4)
Business Hours
Monday – Saturday
5 PM ~ 3 AM (L.O food 2 AM / drink 2:30 AM)
Sunday and Holidays
5 PM ~ 1 AM
(LO. Food 12 MN / Drink 11:30 PM)
Category
Hotpot
Budget
¥3,000 up
TEL
+81-3-3710-6760
Address
2-14-1 Kamimeguro, Meguro, Tokyo
Business Holiday
None
Access
Nakameguro Station
Seats
140
Credit Card
VISA, MasterCard, Diners, American Express, JCB
English Menu
Yes
Smoking Establishment
Smoking
Access from the Station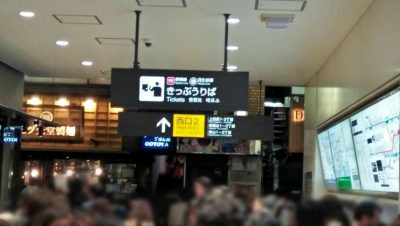 Travel time on foot is about 2 minutes from Nakameguro station – Tokyu Toyoko line and Tokyo Metropolitan Hibiya line.
Appearance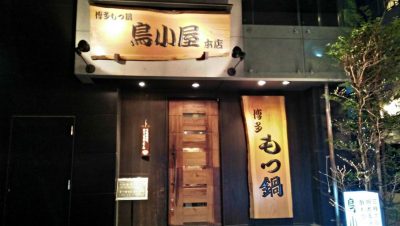 The location is really convenient considering that it is just 2 minutes on foot from the station however, it's quite challenging for foreigners because it does not have an English banner or translation of its name outside. Expect long queues especially during peak hours and spring season.
Ambiance
1st Floor: Counter Seating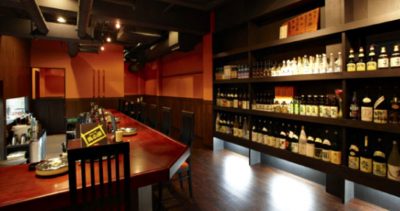 2nd Floor: Table Seating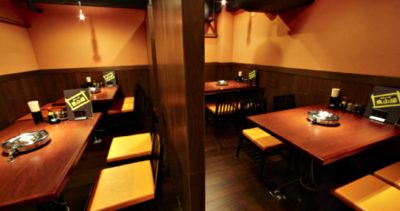 3rd Floor: Horigotatsu Seating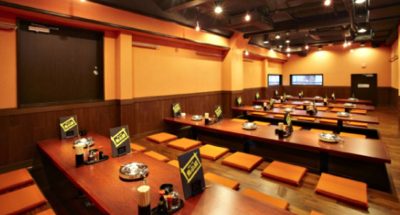 Traditional Japanese table that's low to the ground and has a recessed floor beneath it so that people can stretch out their legs.
The moment I entered this place I knew then that I'll have another superb dining experience to remember. What caught my attention most was the neatly-aligned different types of alcohol/sake on the right side of the door(when entering).
The first floor has 10 counter seats and 6 table seats, the second floor has 24 seats, 4 tables with 4 seats each, and four 6 seaters(bench style), and the third floor has 60 maximum number of seats.

Recommended Menu
This restaurant is best known for its speciality: Motsu Nabe (the Fukuoka style). It is in fact, highly recommended by many.
Gyl's Review
"Motsu Nabe – (Offal Hot pot) @ ¥950 + tax /per person"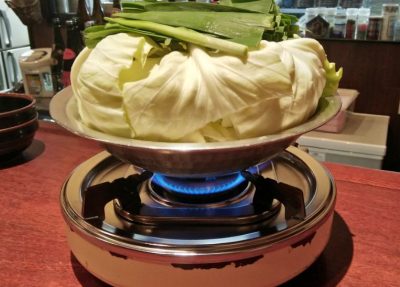 "Cooked Motsu Nabe"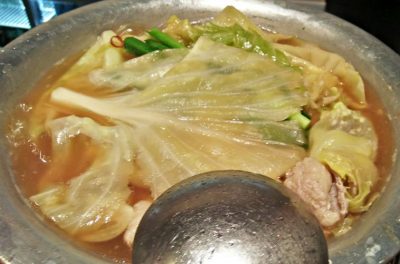 This Fukuoka style Motsu Nabe is by far, the best among the others that I've tried while staying here in Japan. It contains offal, garlic chives, cabbage, garlic, chilli pepper, and the restaurant's secret ingredient to boost the tastiness of their own version. The soup tastes so perfectly blended with all the ingredients.
"Horse Sashimi @ ¥850 (+ tax)"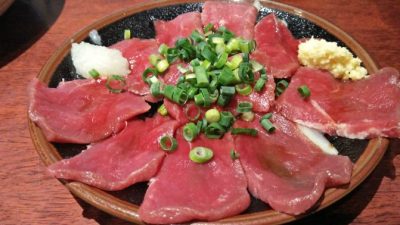 Horse Sashimi has a unique taste for me since it was only my second time eating. The fresh horse meat has no foul smell and I didn't experience any uncomfortable situation while eating.
"Mentaiko Egg Yaki @ ¥600 (+ tax)"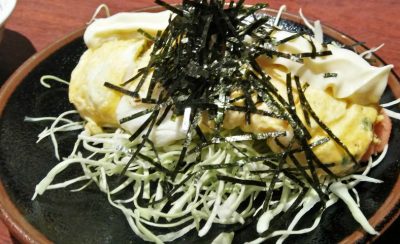 Lovin' this special recipe from this restaurant and I must say I'd order it again on my next visit. This palatable piece turned out to be on of my favorites
"Natto Tempura @ ¥550 (+ tax)"

This is one of Torigoya's recommended menu and I couldn't agree more. Even those who haven't tried eating natto yet will surely have a different impression after trying this one.
"Chinese Yam with plum dressing @ ¥450 (+ tax)"
"Otoshi (Duck Meat)"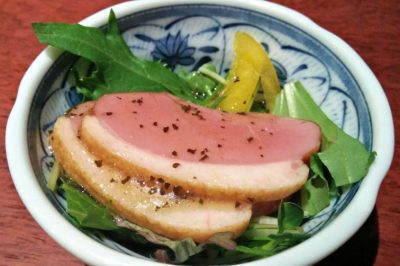 The serving time of the food is very impressive coz you'll never get bored of waiting. They serve it accordingly and just right after you finished your first order.
This place is indeed an ideal one for eating alone, dating, and large group gatherings. The staff were all accommodating and work oriented.
Take-out is available upon request.
People's Review
💋💋💋 大好きな もつ鍋屋さん。 #鳥小屋 #鳥小屋本店 #もつ鍋 #ホルモン #中目黒 #東京 #tokyo #博多もつ鍋 #東京グルメ #中目 #食べログ #yummy #飯テロ #EXILE #三代目JSoulBrothers #GENERATIONS
つつつついに💓💓 #鳥小屋 #もつ鍋 #中目黒 #お花見 もしてきたけど人多すぎてカオスだった、、(笑) 平日夜だよ??びっくりする。 もはや目黒川沿いがお酒くさかった。 ずーっと行きたかった鳥小屋🍻💕 もつ鍋も馬刺も酢もつもおいしかったぁ💓 #ハッピー #大満足 ✨ #鳥飼 おいしかった🍶☀ #また行きたいお店 #鳥小屋本店 おでん屋もいきたいのにいつもいつも混んでいる😭😭 #nakameguro #tokyo #instafood #sakura #dinner #delicious #beer #shochu #japan