Recommended restaurant in Glorietta 5, Makati this time is Army Navy Burger + Burrito.
▶:Start Google Maps Here!(Smartphone)
TripAdvisor
Army Navy (score:4)
Name
Army Navy
Hours
Mondays – Thursdays, Sundays
1st batch: 10:00 AM – 9:00 PM

Fridays & Saturdays
10:00 AM – 10:00 PM

Budget
P400 up
TEL
+632 333 3131
Address
Unit 2-024, Level 2, Glorietta 5 | Ayala Center, Makati, Luzon, Philippines
Holiday
None
Smoking
Non-smoking
Card
Credit Cards Accepted
How to Book
The restaurant does not accept advance table booking at the moment so you can just walk in any time you want during its business hours.
Appearance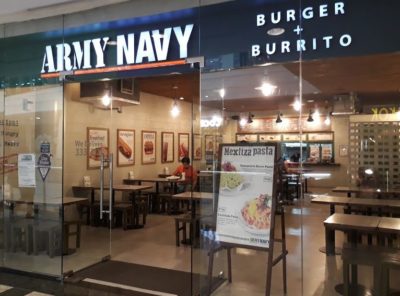 The restaurant's location is very accessible because it is inside the well-known Glorietta 5 so I am sure it'll be easy find!
It's a great space for everyone with stable glass walls all over and you can also see the menu outside. The restaurant's name is clearly displayed in English therefore you won't be having any trouble locating it!
Don't worry about the long queue as because it seldom happens here probably because of its location. Well, it's a good thing though, not lining up, and just sit and wait for your order to be served.
Ambiance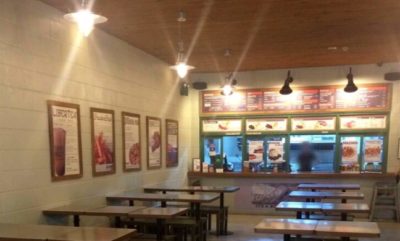 There are a lot of tables and chairs for the customers so you won't suffer from being in an overcrowded place.
The atmosphere brings out a cool vibe and it's just right for a serious bonding time with friends, families, and special someone.
The service that they provide is also very impressive so this restaurant is really a good place to spend some time and get rid of stress.
Most of the customers are local people but you can expect some foreign travelers like Americans dining at this place.
Recommended Menu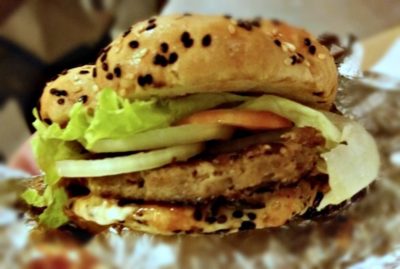 Their premium burger is the bestseller! The superb flavors of the patties compliment the whole thing which gives so much taste in every bite.
Naked Burrito is also a great menu to make your tummy completely happy! Well, to complete the package, add a glass of refreshing iced tea and the rest becomes unforgettable!
Additional Information
Recommended when eating alone, with friends, with co-workers, and for dating.
The restaurant also offers All Day Breakfast service so make sure to visit the place on specific time frame if you wanna try this one out.
People's Review