Recommended restaurant in Robinsons Place Manila this time is Bacolod Chicken Inasal.
Bacolod Chicken Inasal|Feature Reference
▶:Start Google Maps Here!(Smartphone)
| | |
| --- | --- |
| TripAdvisor | Bacolod Chicken Inasal (score:3.5) |
| Name | Bacolod Chicken Inasal |
| Hours | 10:00 AM – 9:00 PM |
| Budget | 300 up (per peson) |
| TEL | (+632) 404 0388 | 404 0086 |
| Address | Ground Floor, Robinsons Place Manila, Ermita, Manila |
| Holiday | None |
| Smoking | Non-smoking |
| Card | Credit Cards Accepted |
How to Book
For booking/advance reservation inquiries, please call the restaurant directly.
Appearance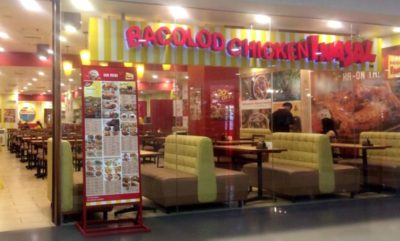 Bacolod Chicken Inasal is located at the ground floor of Robinsons Place Manila and it is not hassle to find!
The company name and logo are both displayed outside and the walls are made of stable glasses just like other restaurants and shops in Robinsons.
Long lines can be anticipated but I have never experienced it at all. Every time we go there, we can always get a good spot where we can enjoy our favorite chicken inasal.
Ambiance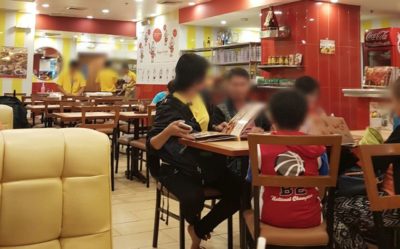 The interior is a typical Filipino restaurant with wooden table and seats and some are wide sofa seats good for family dining experience.
Most of the customers are families or group of friends which simply represents the true Filipino culture.
Yes, Filipinos love eating together most of the time and talk about random things that we can learn from or laugh about.
Recommended Menu
Labeled to be the bestseller of the restaurant, this dish is made with Bangus belly (Milkfish belly) and Batwan: a famous fruit from the Visayas that gives sour flavor to the soup.
1 Quarter Chicken and KBL(Kadyos, Baboy, Langka) are also some of the bests dishes and loved by so many returning customers of Bacolod Chicken Inasal!
Blogger's Verdict
This menu is one of the highly recommended plate in Bacolod Chicken Inasal. For the price of P279 pesos, you can already have garlic rice, grilled onions and tomatoes, and 16oz iced tea.
The taste is a little sweet and really deliciously good when you get to eat it with the garlic rice. Iced tea taste is too sweet for me but it really has a refreshing taste.
Laswa ni Lola is another traditional dish from Visayas made with some fresh veggies, dried fish, and water with a little bit of cooking stock.
The soup tastes like fish stock for obvious reason that it contains dried fish to boost the taste than just plain water.
Will I recommend this restaurant?
Definitely!
For those who want to know more about the traditional dishes from Visayas, Bacolod Chicken Inasal will deliver what you want so make sure to spare some time to visit or bring your family with you!
Additional Information
Recommended when eating with family, friends, co workers and even for casual dates.
Public Wifi is available via Free GoWifi if you have a local mobile number.
Pros:
The restaurant has a wide dining area that offers comfortable seats to the customers.
Cons:
The staff was inattentive when I made a follow up about the remaining order. Thanks to the lady staff/manager who finally listened to my request and served the last order.