Recommended restaurant in Makati this time is Burger Garage.
Burger Garage|Feature Reference
▶:Start Google Maps Here!(Smartphone)
| | |
| --- | --- |
| Name | Burger Garage |
| Hours | 2 PM – 11 PM |
| Budget | P200 up |
| TEL | +63 2 215 0427 |
| Address | 1121 Rodriguez Ave, Makati, Metro Manila |
| Holiday | None |
| Smoking | Non-smoking |
| Credit Cards | Not Accepted |
How to Book
Advance booking is not accepted in this restaurant so just visit the place to enjoy their burgers!
Appearance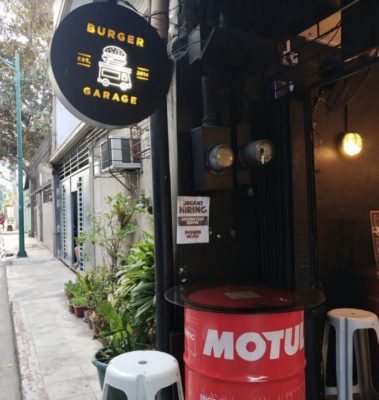 A not-so-wide dining area with a unique design of jeepney with signboards going to Makati or Alabang, this place is quite impressive for me!
The tables and seats are also comfortable and good for 4 people. For plastic barstools and table barrels are a great combo and yeah, quite unique.
Long lines can be inevitable at times but rest assured this place isn't as crowded as you imagined it to be.
Most of the customers are Filipinos eating out with friends, family, co-workers, and some are dating couples.
Ambiance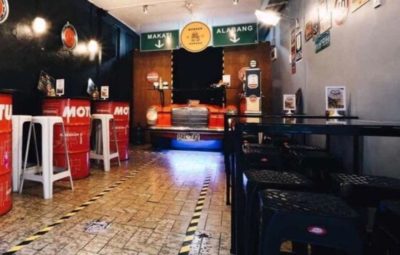 There are a lot of tables and chairs for the customers so you won't suffer from being in an overcrowded place.
The atmosphere brings out a cool vibe and it's just right for a serious bonding time with friends, families, and special someone.
The service that they provide is also very impressive so this restaurant is really a good place to spend some time and get rid of stress.
Recommended Menu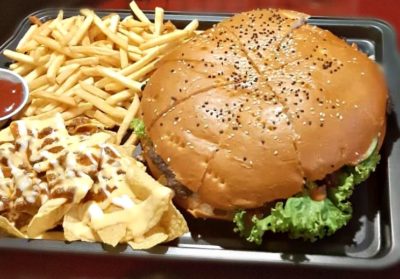 This 10-wheeler burger is good for 4 to 8 people! Aside from its meaty and cheesy flavors, its price is very reasonable enough if shared with companions.
Chicken wings and pasta are also very famous and can surely make your tummy completely happy! Well, to complete the package, add a glass of coke and the rest becomes unforgettable!
Additional Information
Recommended when eating alone, with friends, with co-workers, and for dating.
People's Review
View this post on Instagram

Good Food… Good People… Good Time… Life is too short for anything less…. #sundate #burger #garageburger #foodporn #foodphotography #friendshipgoals