Recommended restaurant in Makati, Manila this time is Commune Cafe+Bar.
Commune | Feature Reference
▶:Start Google Maps Here!(Smartphone)
TripAdvisor
Commune (score:4)
Name
Commune Cafe+Bar
Budget
P500 up
Hours
Monday – Thursday: 8 AM – 12 MN
Friday – Saturday: 8 AM – 1 AM
Sunday: 9 AM – 10 PM
TEL
landline: +632 275 6324
mobile: +63 919 859 5848
Address
36 Polaris Street | Corner Durban Street, Makati Makati Philippines
Holiday
None
Card
Credit Cards Accepted
Website
commune.ph
How to Book
Customers can book a week in advance or even a day before depending on the availability of the seats. Booking can be done online at commune.ph and via phone call.
Appearance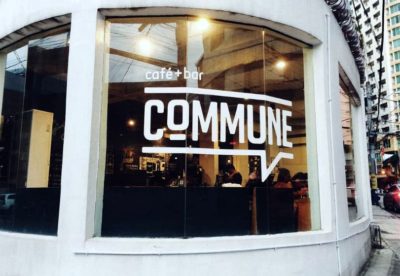 Commune is owned by a coffee aficionado/web media strategist who dreamed of founding her very own cafe.
Commune is located at the corner of Polaris street so it isn't hard to find. The shop's name is also displayed on the outside wall which can be seen by anyone passing by.
Painted in a white hue, the exterior can be pretty appealing to anyone's eyes. I mean, who wouldn't notice?! The glass walls also made the interior visible from the outside and vice versa.
Ambiance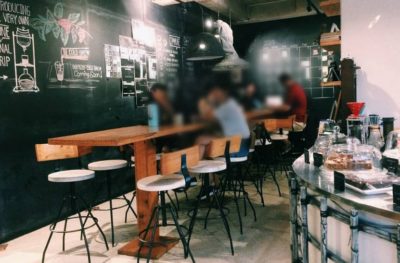 The interior is just like the other cafes that can literally transform your mood into a more productive one.
I love how they put simple deets without lacking style and vibrant all over the place. It's an amazing concept of between minimalism and art decoration in one.
The place don't get jampacked easily and for events, the restaurant can also do/accommodate fun activities and if interested, just make sure to inquire about it.
Recommended Menu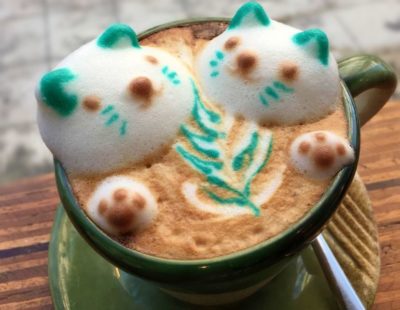 At Commune, Latte has always been the best-selling drink that gained so much popularity because of its different cute and unique designs.
Their Oreo Cheesecake seems like a perfect match when having hot coffee either latte or black so make sure to try one when you visit!
Additional Information
Recommended when eating alone, with a friend, co-worker, and also good for dating.
Free Wifi is available in the restaurant.
Takeaway service is also offered.
People's Review