Recommended restaurant in Shinjuku this time is Gyukatsu: Gyukatsu Motomura.
Gyukatsu: Gyukatsu Motomura|Feature Reference

▶:Start Google Maps Here!(Smartphone)
TripAdvisor
Gyukatsu Motomura(score:4.5)
Restaurant's Name (Japanese)
牛かつ もと村
Business Hours
11 AM ~ 11 PM
(Last order: 10 PM)
Category
Gyukatsu Restaurant
Budget
¥1,500 ~ up
TEL
+81-3-3354-0171
Address
3-32-2 Shinjuku | B1F Moto Bldg., Shinjuku-ku 150-0002, Tokyo Prefecture
Business Holiday
None
Access
Shinjuku Sanchome Station
Seats
22
Credit Card
Not Accepted
Smoking Establishment
Non-smoking
Appearance
"Outside view"
The estimated travel time on foot is 2 minutes from Shinjuku Sanchome Station (Tokyo Marunouchi Line and Fukutoshin Line) and 3 minutes from Shinjuku Station (JR Chuo Line) – South Exit.
The exterior of the building has a black and white theme which adds up to a neat-looking style. As for the foreign travelers like me, it's best to check the Kanji name of the resto first so as not to waste time upon your visit.
Since this restaurant is indeed famous, expect it to be overcrowded most of the time and long lines can be really a burden but if you wish to have a secure spot faster, it's best to come in early like 30 minutes before the shop opens.
Ambiance
"The Counter Seating"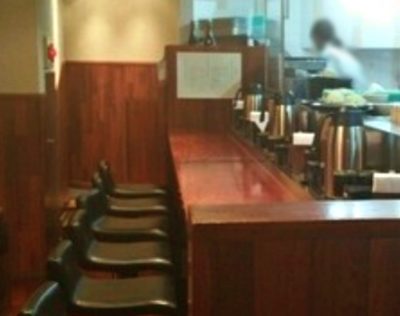 "The Table Seating"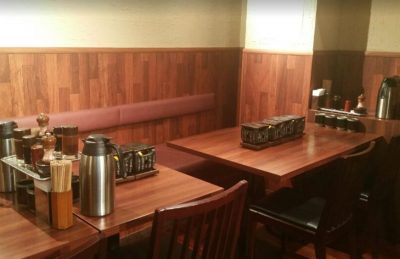 The interior of the restaurant is so simple and it is really a very limited space having only 22 available seats to accommodate the customers but it is without a doubt, a well-maintained place. The lighting is just average, not too bright and not to dim which is good and a mood booster.
If you are dining alone, counter seats will be the best spot. This place is also recommended if you're with a friend or co-worker, and even for dating. Most of their customers are locals and foreign travelers like Koreans and Chinese people.
Recommended Menu
Beef Cutlet & Barley Rice Set"
This place is best known for its deep fried beef cutlet or commonly known here in Japan as "Gyukatsu". Their beef cutlet is described as tender and juicy. It gives that satisfying taste to the customers!
It comes with a mini stone grill just for customers who wish to grill the inner part of gyukatsu longer than necessary. This setup mostly applies to foreign customers.
Additional Information
・Recommended when eating alone, with co-worker, with friend, and for dating.
・Services offered:
Set meals available.
Free WiFi service.
・Cons: Secluded Restaurant
Other Branches
Gyukatsu Motomura in Shinjuku – Kabukicho Branch

▶:Start Google Maps Here!(Smartphone)
TripAdvisor
Gyukatsu Motomura(score:4.5)
Address
1-18-9 Kabukicho Shinjuku | Wa Mall B1F, Shinjuku-ku 160-0021, Tokyo Prefecture
Business Hours
11 AM ~ 11 PM
(Last order: 10 PM)
TEL
+81-3-3208-7450
Business Holiday
None
Access
Seibu Shinjuku Station (Seibu Shinjuku Line: 2-minute walk)
Gyukatsu Motomura in Shinjuku – Alta Ura Branch

▶:Start Google Maps Here!(Smartphone)
TripAdvisor
Gyukatsu Motomura(score:1.5)
Address
3-22-7 Shinjuku | Toda Building B1F, Shinjuku-ku 160-0022, Tokyo Prefecture
Business Hours
11 AM ~ 11 PM
(Last order: 10 PM)
TEL
+81-3-3354-7311
Business Holiday
None
Access
Shinjuku Station (JR Line: 3-minute walk)
Gyukatsu Motomura in Shinjuku – Nishi-Shinjuku Branch

▶:Start Google Maps Here!(Smartphone)
TripAdvisor
Gyukatsu Motomura(score:4.5)
Address
7-1-2 Nishishinjuku | B1F Kawayasu Bldg., 160-0023, Tokyo Prefecture
Business Hours
11 AM ~ 11 PM
(Last order: 10 PM)
TEL
+81-3-6279-2899
Business Holiday
None
Access
Shinjuku Nishiguchi Station (2-minute walk)
Gyukatsu Motomura in Shinjuku – Shinjuku Sanchome Branch

▶:Start Google Maps Here!(Smartphone)
Address
3-2-2 Shinjuku | Shinjuku Kono Building 1st Floor, Shinjuku-ku 160-0022, Tokyo Prefecture
Business Hours
11 AM ~ 11 PM
(Last order: 10 PM)
TEL
+81-3-6457-4233
Business Holiday
None
Access
Shinjuku Sanchome Station (1-minute walk)
People's Review