Recommended restaurant in Ueno this time is Gyukatsu: Gyukatsu Motomura.
Gyukatsu: Gyukatsu Motomura|Feature Reference

▶:Start Google Maps Here!(Smartphone)
TripAdvisor
Gyukatsu Motomura(score:4)
Restaurant's Name (Japanese)
牛かつ もと村
Business Hours
11 AM ~ 11 PM
(Last order: 10 PM)
Category
Gyukatsu Restaurant
Budget
¥1,500 ~ up
TEL
+81-3-6284-2780
Address
4-10-17 Ueno | Tezuka Building 2F, Taito-ku 110-0005, Tokyo Prefecture
Business Holiday
None
Access
Keisei Ueno Station
English Menu
Yes
Credit Cards
Not Accepted
Smoking Establishment
Non-smoking
Appearance
"Tezuka Building (outside view)"
The estimated travel time on foot is 2 minutes from Keisei Ueno Station, just after entering Ameya Alley.
The exterior of Tezuka building is quite old but it's well-maintained. As for the foreign travelers like me, no need to worry because the place has an English name just right above the entrance of the building so it's not that difficult to find.
Since this is a widely known restaurant, expect it to be overcrowded most of the time and long lines can be really a burden but if you wish to have a secure spot faster, it's best to come in early like 30 – 60 minutes before the shop opens. Also, bring a little more patience, will you? lol!
Ambiance
The interior of the restaurant is indeed simple yet very relaxing because of its dim-lighting style matching the mood for relaxation while enjoying the food.
If you are dining alone, counter seats will be the best spot. This place is also recommended if you're with a friend or co-worker, and even for dating.
Recommended Menu
Beef Cutlet & Barley Rice Set"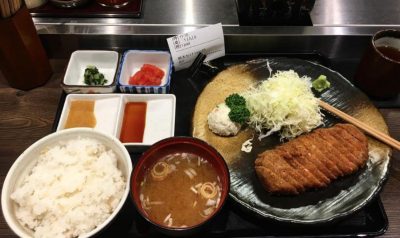 This place is best known for its deep fried beef cutlet or commonly known here in Japan as "Gyukatsu". Their beef cutlet is described as tender and juicy. It gives that satisfying taste to the customers!
It comes with a mini stone grill just for customers who wish to grill the inner part of gyukatsu longer than necessary. This setup mostly applies to foreign customers.
Additional Information
・Recommended when eating alone, with co-worker, with friend, and for dating.
・Services offered:
Set meals available.
Free WiFi service.
・Cons: Secluded Restaurant
People's Review
☆ _ 2018.5.3 GW🌺 アメ横&ホッピー通りハシゴの旅 とりあえず昼ごはんに牛かつ🐄 _ #東京#上野#牛かつ#もと村#ビール #美味しすぎ#2回目#居酒屋#はしご #beef#beefcutlet#delicious#happy #goog#day#friend#love#instagood