Recommended restaurant in Shibuya this time is Korean Food: HAN NO DAIDOKORO.
Korean Food: HAN NO DAIDOKORO|Feature Reference

▶:Start Google Maps Here!(Smartphone)
TripAdvisor
HAN NO DAIDOKORO(score:5 )
Category
Korean Restaurant
Business Hours
Monday – Friday:
5:00 PM – 11:30 PM (L.O. 11PM)
Saturday, Sunday & Holidays:
4:00 PM – 11:30 PM (L.O. 11PM)
Category
Korean Restaurant
Budget
¥3,000 up
TEL
+81-3-6455-0272
Address
2-29-13 Dogenzaka | Wakatsuki Bldg 1F, Shibuya 150-0043, Tokyo
Business Holiday
None
Access
Shibuya Station
Seats
30
Credit Card
Accepted
English Menu
Yes
Smoking Establishment
Yes
Appearance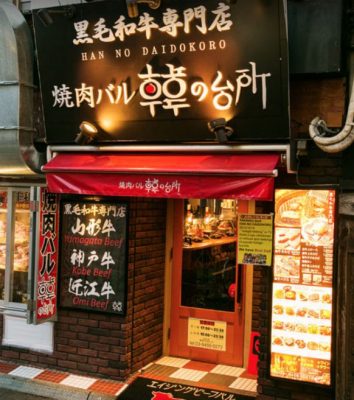 This restaurant is conveniently located just 3 minutes away on foot from Shibuya Station – Keio Inokashira Line and 5 minutes from JR Line. It is styled with brick walls and it has readable restaurant logo on the outside. Expect long lines almost every day because this Korean barbeque restaurant is really famous here in Japan.
Ambiance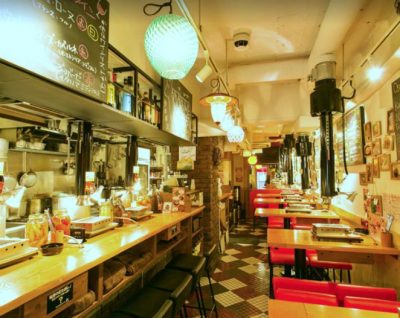 The indoor theme is very stylish with a touch of truly Korean style lamps and decors. It has a very relaxing atmosphere with an average noise. There are a total of 30 seats (counter and table seats) available to accommodate the guest.
Most of the customers are Japanese and foreign travellers.
This place is best when eating alone, with co-workers or even for dating.
Recommended Menu
Famously known for its Yakiniku set which represents 100% Kobe original beef. Customers would label it as mouth-watering and overly satisfying experience!
Additional information
・Otoshi charge – ¥400 + tax
・Services offered
・Cons(waiting time, attitude of staff, noisy, unsanitary, etc…)
People's Review
A5 kobe baby! #A5 #kobebeef #wagyu #shibuya #japan #tokyo #beef #japanesebbq #meltinyourmouth #bqq
View this post on Instagram

Last night's birthday dinner 🍴👌🏻👌🏻 #sahgood
I love Kobe and wagyu but I must say, beef tongue will always be my fave. 👅 also, the service here is superb 👌🏽. Totally worth splurging on for our last night. #jbbq #japan #tokyo #shibuya #hannodaikokoro
No words. Just eat! #yummyinmytummy #yummy😋 #foodstagram #instafood #dinner #shibuya #tokyo #nomnomnom #foodtastesbetterwithyou #travelwithmylove #wagyu #beef