Recommended restaurant in Makati this time is Ramen Kuroda.
Ramen Kuroda|Feature Reference
▶:Start Google Maps Here!(Smartphone)
| | |
| --- | --- |
| TripAdvisor | Ramen Kuroda(score:4) |
| Name | Ramen Kuroda |
| Hours | 10:00 AM – 9:30 PM |
| Budget | P300- up |
| TEL | +632 832 6216 |
| Address | 3F RCBC Plaza 6819 Ayala Avenue, Makati, Luzon 1200, Philippines |
| Holiday | None |
| Smoking | Non-smoking |
| Card | Credit Cards Accepted |
How to Book
Unfortunately, to all customers out there, this restaurant does not accept advance reservations at the moment.
Appearance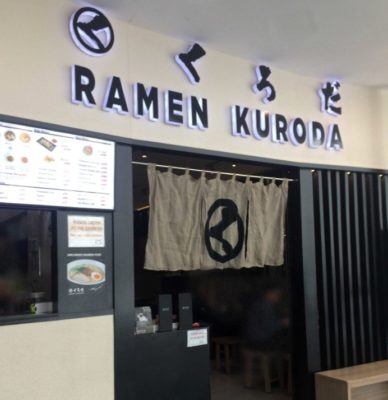 A very typical ramen house with white Japanese fabric dividers hanging at the entrance/exit area.
The restaurant's name is displayed in both English and Japanese language (Hiragana). There are also some menu options displayed on the wall so you can see and choose which bowl would you like to order.
The place gets easily jampacked so I recommended visiting a little earlier/later than lunch or dinner time.
Ambiance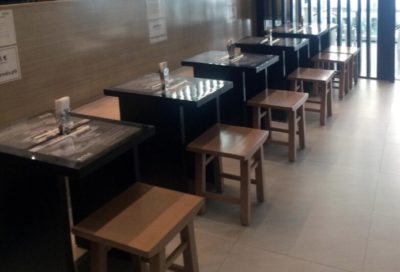 Ramen Kuroda is considered to be the best place for ramen lovers who seek for a budget-friendly restaurant. Yes, for less than P200, you can already have a desirable ramen bowl that you crave for.
Since it caters to a "fast-paced-eating" style, you'll get to be seated for 5 to 10 minutes even on peak hours depending on the number of the customers.
Although it is crowded every day, you'll still enjoy the ambiance in this restaurant since it does not exhibit too much deets in and out.
Recommended Menu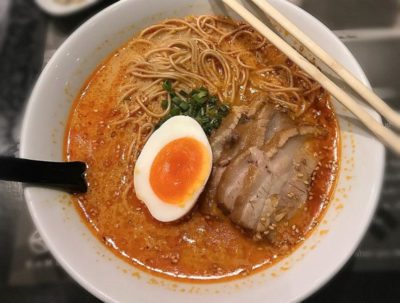 The highly recommended menu options are Aka Ramen (see the picture above), Kuro Ramen, and Gyoza.
The delicious taste of authentic Japanese ramen broth with some spices paired with boiled egg and thin noodles will surely make you crave for more especially on a rainy day!
Additional Information
Given its wide dining area, you can go there and enjoy dining with your friends, family and someone special!
Take-out service is also available so you can still let your family experience the taste by bringing some at home.
People's Review