Recommended restaurant this time in Musashikosugi is Ikinari Steak.
A Japan-based steakhouse is now making noise to the public. Its vision of serving "super thick" and high-quality meats in a timely manner is luring people in. People would rather bear standing while eating just to savor the taste of extraordinary steaks that can only be found in this restaurant.
In terms of budget, the mouth-watering steaks that the restaurant offers are also reasonably priced which probably is, one of the reasons why it is becoming more and more popular these days. This is indeed one of my favorite restaurants to go whenever I feel the need to eat tasty and high-quality steak.
Ikinari Steak|Feature Reference
▶:Start Google Maps Here!(Smartphone)
TripAdvisor
Ikinari Steak (score:3.5)
Name
いきなりステーキ
Hours
10:00 AM – 10:00 PM
Lunch Time: 10:00 AM – 3:00 PM (on weekdays)
Budget
¥2000〜 up
TEL
+81 44-281-3829
Address
3-420, Kosugimachi, Nakahara-ku,
Kawasaki-shi, Kanagawa Prefecture 〒211-0063
(Ito-Yokado Musashikosugi restaurant)
Holiday
None
Access
Musashikosugi Station
Seats
29
Smoking
Non-smoking
Card
Credit Cards Accepted
Access from the station: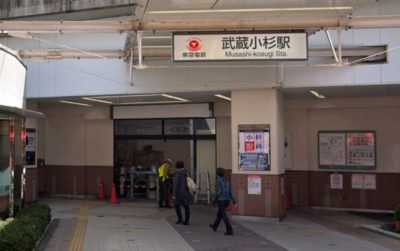 The distance is approximately 3 minutes on foot from Musashi-Kosugi Station (Tokyu Toyoko Line). The location is really close and you'll never ever have to worry about getting lost, trust me.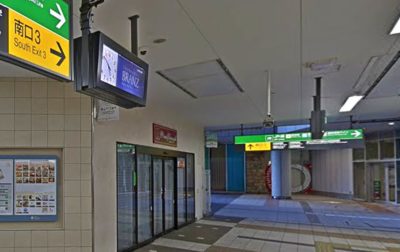 Get off at Musashikosugi station (Tokyu-Toyoko Line) and take the nearest exit. If you want to reach the restaurant faster then take the South Exit 3.
Appearance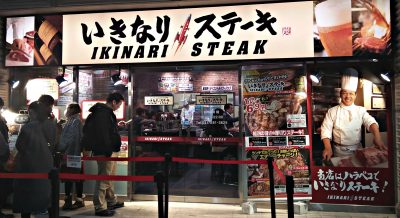 The restaurant's exterior concept is the same as the other branches of Ikinari here in Japan. A huge signage of the restaurant's name in both Japanese and English so it is not difficult for the customers to find.
It is conveniently located beside the entrance/exit of Ito Yokado (イトーヨーカド) Supermarket. There you'll see a lot of people lining up and patiently waiting for their turns.
Dining Area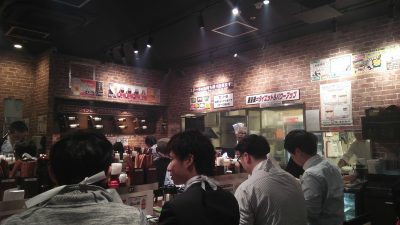 There are about 29 seats in the dining area to accommodate diners. It feels so cozy and relaxing because of its warm-toned lighting effect that is just perfect for a romantic date.
"Wine display corner"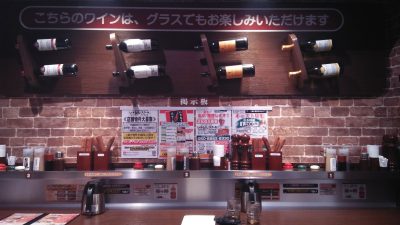 This part of the restaurant showcases the highly recommended wines that are suitable for eating steak.
"Real aged domestic beef sirloin steak"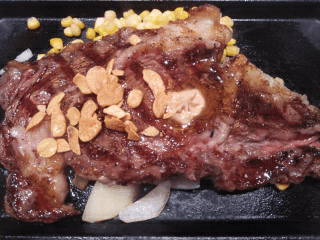 I can still perfectly remember how the steak melts in my mouth while chewing it in, and the juiciness level is beyond my expectation. I had "Real aged domestic beef sirloin steak" and that alone, is something I will always look forward to eat when I visit the place again.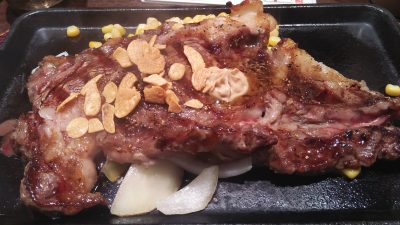 The waiting time didn`t really bore me for my order was served about more or less than 10 minutes. The service rendered by the staff is just timely and very efficient. Also, all of them greet the customers with great enthusiasm!
Other Menu
US Fillet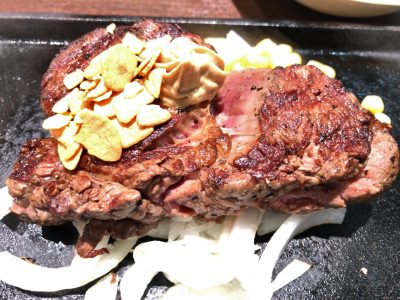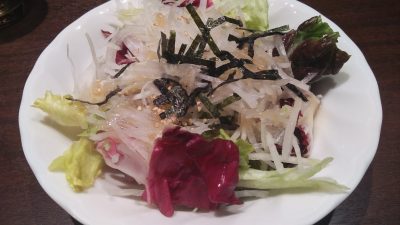 Japanese Style Salad (with radish and lettuce)
Different Types of Condiments

From the left: sweet sauce (mostly for children), onion dressing, pepper dressing, and soy sauce.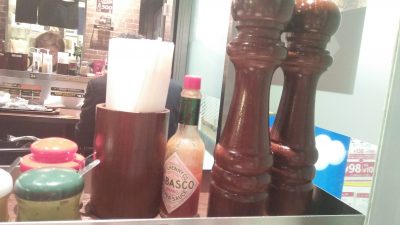 Pepper sauce, salt and pepper.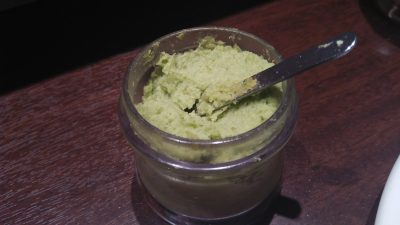 wasabi.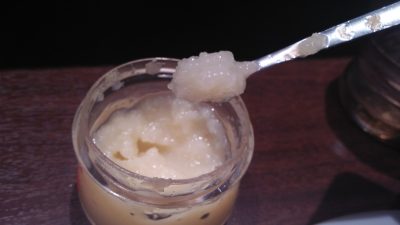 garlic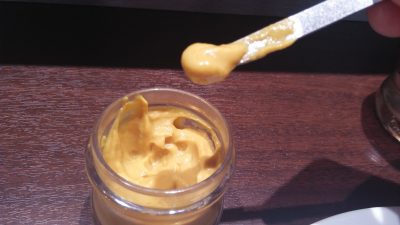 karashi
Additional Info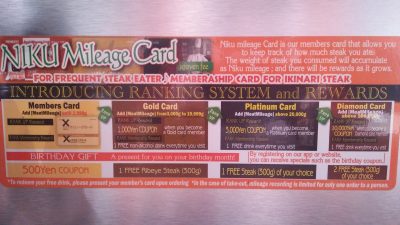 Membership Card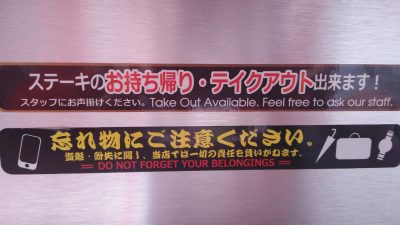 Available for takeaway service.
Sure this place will never disappoint you so pay a visit and experience one of the best steakhouses in Musashi-Kosugi!