Recommended restaurant in Makati, Metro Manila this time is The Red Crab.
The Red Crab|Feature Reference
▶:Start Google Maps Here!(Smartphone)
TripAdvisor
The Red Crab (score:3.5)
Name
The Red Crab
Hours
11:00 AM – 11:00 PM
Friday – Saturday
11:00 AM – 12:00 MN
Budget
P1,500 (average for 2)
TEL
+63 2 7757 4716
Address
Level 2, Greenbelt 3, Ayala Center, Greenbelt, Makati City
Holiday
None
English Menu
Available
Smoking
Non-smoking
Card
Credit Cards are accepted
How to Book
Rerservations can be done online at zomato.com and you can also download the Zomato app thru Play Store and App Store.
Appearance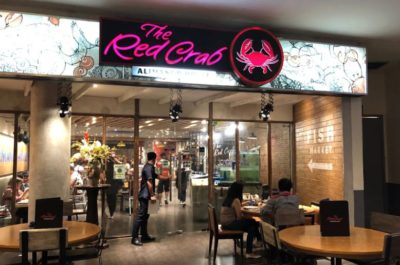 The Red Crab is known for serving one of the best crab and other seafood dishes in the metro and in fact, it has 4 more branches in Manila.
I love how appealing it looks like from the outside. The restaurant's logo has a crab image which signifies what's best to order from the menu: Crabs.
Long queue isn't really a problem here because you can always opt for a reservation in advance if you want to have a secured seat.
Ambiance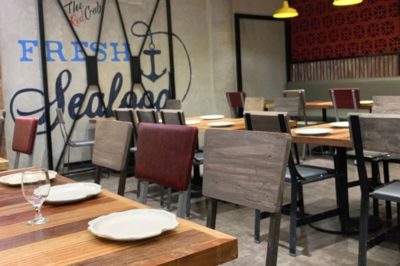 The ambiance is just like a casual fine dining with some deets like catchy words on the walls. Tables and chairs are comfotable enough to enjoy an extravagant meal.
The restaurant also caters home delivery service so it is really convenient for those who cannot dine out because of some unavoidable situations.
Recommended Menu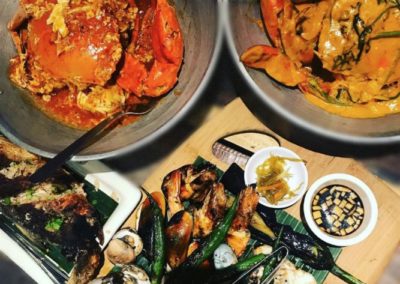 Thai Chili Crab, Adobong Pusit, Crab Meat, Tuna Belly and Asian Pork Seafood Paella, Grilled Seafood Platter, Sinigang, Garlic Rice
Additional Information
Recommended when eating alone, with family, with friends, and for dating.
Free WiFi access is available at the restaurant.
The restaurant also offers home delivery service.
People's Review