【1】Explore Miyajima Island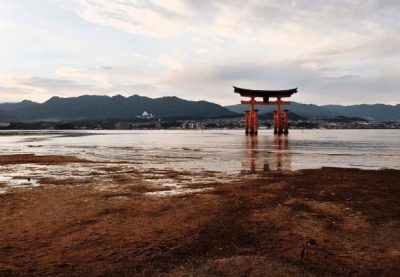 ▶:Start Google Maps Here!(Smartphone)
| | |
| --- | --- |
| Name | Itsukushima (official name) |
| Address | Miyajimacho, Hatsukaichi, Hiroshima Prefecture 739-0588 |
| Operating Hours | 24 hours |
| Holiday | None |
Miyajima (officially named Itsukushima) is a very small island a short jaunt from Hiroshima. After taking a 10-minute ferry, the striking view of the island is unforgettable. Sparsely populated and intensely rural, Miyajima is renowned throughout the country as being the best spot to see the autumn leaves change colors. The island's many maple trees are turned a brilliant crimson in the fall, making it a top attraction for those looking to snap that perfect picture. And because the island itself is sacred, the trees are protected and cannot be cut. This protection also extends to the tame deer roaming the island, a sacred animal considered to be friends of the gods.
With charm to spare, this town should already be at the top of anyone's Japan list, but it has an ace up its sleeve. The main feature of the island is undoubtedly the absolutely massive torii gate, a crimson reminder that the island hosts Itsukushima Shrine, a World Heritage Site colloquially known as the Floating Shrine.
【2】See the beauty of Hiroshima Castle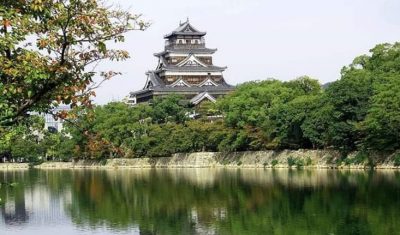 ▶:Start Google Maps Here!(Smartphone)
| | |
| --- | --- |
| Name | Hiroshima Castle |
| Address | 21-1 Moto-machi | Naka Ward, Hiroshima 730-0011, Hiroshima Prefecture |
| Operating Hours | 9 AM – 5 PM |
| Holiday | None |
A beautiful castle in the heart of Hiroshima which is about 10 minutes walk from the Atomic Bomb dome, surrounded with green treesOffering a fantastic example of traditional Japanese castle construction, Hiroshima Castle is a fine castle indeed. The present castle was, of course, reconstructed after World War II, but is still a fantastic site to behold.
Surrounded by a moat, the five-story tall castle was first built in 1589 by legendary feudal lord Mori Terumoto. The present castle has been sturdily rebuilt out of concrete with a classic wooden exterior. It is also one of the best spots in the city to see cherry and plum blossoms among the sprawling castle gardens.!
【3】Have a relaxing time at Shukkeien Garden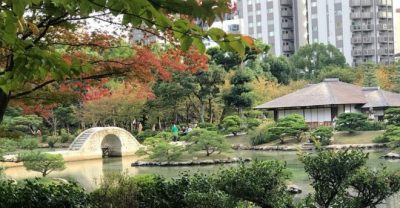 ▶:Start Google Maps Here!(Smartphone)
| | |
| --- | --- |
| Name | Shukkeien Garden |
| Address | 2-11 Kaminoboricho, Naka Ward, Hiroshima, Hiroshima Prefecture 730-0014 |
| Operating Hours | 9AM – 5PM |
| Holiday | None |
Hiroshima's Shukkei-en Garden is an oasis of peace and tranquility and one of this famous city's little-known treasures. Once the home of Emperor Meiji, the gardens were opened to the public in 1940, and, despite being badly damaged by the nuclear attack of 1945, were completely restored and reopened in 1951.
The Shukkei-en Garden is replete with numerous colorful trails, bridges, pools and streams, which draw their water from the nearby Ōta River. Make it a point to visit one of the on-site teahouses, perfect spots from which to enjoy the park's beautiful panoramas. There is a small entrance fee, but it's free for children and seniors over 65.
【4】Wander around Hiroshima Peace Memorial Park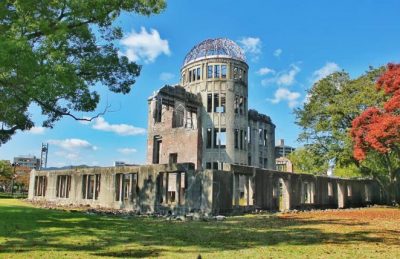 ▶:Start Google Maps Here!(Smartphone)
| | |
| --- | --- |
| Name | Hiroshima Peace Memorial Park |
| Address | 1-2 Nakajimacho, Naka-ku, Hiroshima 730-0811, Hiroshima Prefecture |
| Operating Hours | 12 PM – 12 MN |
| Holiday | None |
The memorial is situated near the museum and is very nice to visit. The white stone pathways and memorial is very symbolic and is kept very clean and pristine. Stop by to take a look and observe when you have the chance. Photography is allowed, but be respectful of those praying and making offerings.
This park is a lovely place to sit and relax after touring through the city. There are lots of memorials and sites to look at, and plenty of well shaded spots to relax. It can be accessed from the main train station with about a 15 minute tram ride. The tram stops right at the A-Dome site and the park is all right there.
【5】Check out the Yamato Museum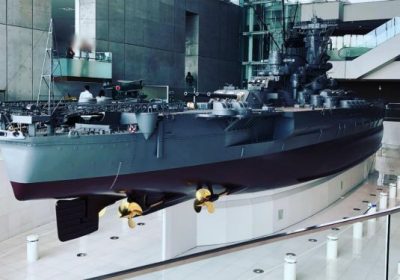 ▶:Start Google Maps Here!(Smartphone)
| | |
| --- | --- |
| Name | Yamato Museum |
| Address | 5-20 Takaramachi, Kure 737-0029, Hiroshima Prefecture |
| Operating Hours | |
| Holiday | |
The Yamato Museum takes you back to the days when the Yamato was the largest battleship to patrol the seas. The scale models are interesting and kids, especially boys, like it (at least that has been our experience).
Very interesting and gives you a different perspective of WW ll. About casualties from other side who were also people and seeing and reading their last letters was very emotional. For me personally the highlight is airplane Zero. Seeing it in person after seeing it so many times on TV is something special. Also, I recommend to go across street for a plate of curry after visiting the museum.