Okinawa is located in the southern part of Japan and it is rich in heritage and culture. The name literally translate to "rope in the open sea", which perfectly describe the shape of the island. It is also popular for beach destinations for Japanese as it has subtropical to tropical climate.
If you get the chance to visit the place, enjoy these 7 things to do and make the most of your stay a truly memorable one!
【1】Explore the great Okinawa World – Gyokusendo Cave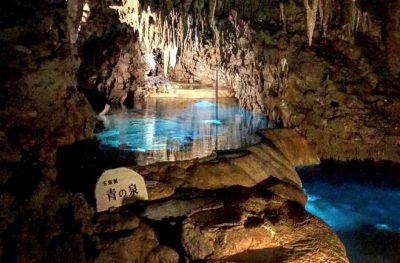 ▶:Start Google Maps Here!(Smartphone)
| | |
| --- | --- |
| Name | Gyokusendo Cave |
| Address | 1336 Tamagusuku Maekawa, Nanjo 901-0616, Okinawa Prefecture |
| Operating Hours | 9AM – 5PM |
| Holiday | None |
The Gyokusendo cave system is a real gem with stalaticts and stalicmites, running waters all adding to the allure of this magic underworld. While the cave is the star, there is a fuit orchard where flavoured ice creams and juices reflect some of the orchards best known fruits, and a boutique brewery for ale lovers. The drum and dance theatre is also worth taking time to see.
This is a good place for first time visit of stalactite cave. My son likes it much and he is very surprise to see there is a crab and fish actually live in the water. However, it would be too much walking for the elderly. My mom has bad legs so its too much walking for her and not seat for her rest. Apart from the cave, there are many things to see in this park, so please prepare at least half day for visit.
【2】Enjoy the ancient landmark Shuri Castle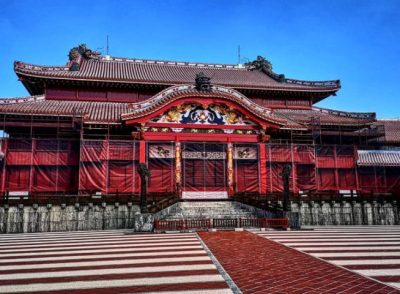 ▶:Start Google Maps Here!(Smartphone)
| | |
| --- | --- |
| Name | Shuri Castle |
| Address | 1 Chome-2 Shurikinjocho, Naha, Okinawa Prefecture 903-0815 |
| Operating Hours | 8AM – 7:30PM |
| Holiday | None |
This is one of the recommended places to visit whilst you are in Okinawa.It offers an insight and history of the Old Kingdom.The castle grounds areas are scenic and offers many opportunities for nice pictures (except in the interior of the main building where photography is not allowed). Walking from the castle entrance through the various gates to the main building perched on top high ground can be challenging for the elderly.Also the high steps leading to the gates are slippery during wet weather.
It is advisable to walk up to the main building using the route for wheelchairs,Entrance to the castle grounds is free except one has to pay an admission fee of JYP 850 to get inside the main building.The layout and exhibits inside the building are fascinating.
【3】Get to know more about Iriomote-jima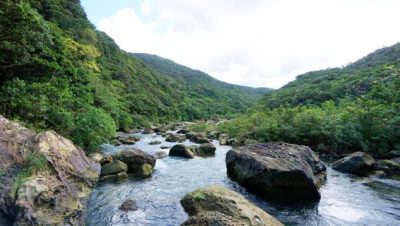 ▶:Start Google Maps Here!(Smartphone)
Name
Iriomote Island
Address
Taketomi-cho, Yaeyama-gun 907-1432, Okinawa Prefecture
Save
Operating Hours
24 hours
Holiday
None
Iriomote is one of the main islands in Yaeyama and it is a perfect place for adventure and relax at the same time. Beautiful and blue beaches, rivers with mangroves and falls and many more things.
Most people come to Iriomote on a guide tour day trip from Ishigaki. However, it is very easy to rent a car there for the day and explore the island in your own time. There is much to see and do. Do do to Yubu Island, a small islet turned into a tropical garden. The trip from Iriomote to Yubu is completed with a water buffalo cart and simply sweet. If you can, go up to the north to Urauchi river ("the Amazon of Japan") and take a river tour there. Comment is in Japanese only, but it is definitely a sight to see.
【4】Take a moment to relax at Miyako-jima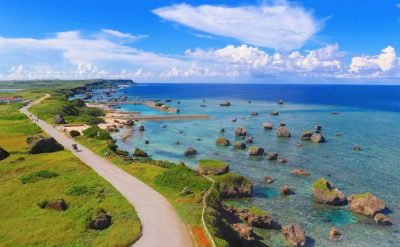 ▶:Start Google Maps Here!(Smartphone)
| | |
| --- | --- |
| Name | Miyako-jima |
| Address | Miyakojima, Okinawa Prefecture 906-0000 |
| Operating Hours | 24 hours |
| Holiday | None |
Miyako-jima lies approximately 300 kilometres southwest of Okinawa Island and 400 kilometres east of Taipei, Taiwan. With an area of 158.70 square kilometres, Miyako is the fourth-largest island in Okinawa Prefecture. The island is triangular in shape and is composed of limestone. Miyako-jima is subject to drought and is frequently struck by typhoons.
An island made of coral reefs. It is used for resort development, resort facilities and hotel construction are thriving. It is said that the guardian god is not Seasar but a shell.
【5】Visit Nakagusuku Castle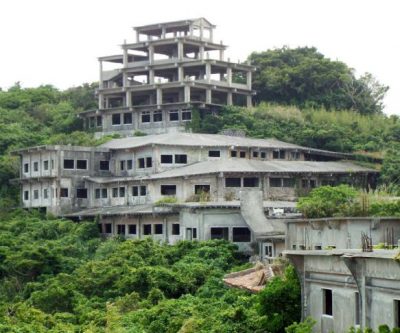 ▶:Start Google Maps Here!(Smartphone)
| | |
| --- | --- |
| Name | Nakagusuku Castle |
| Address | 503 Ogusuku, Kitanakagusuku, Nakagami District, Okinawa Prefecture 901-2314 |
| Operating Hours | 8:30 AM – 5:00 PM |
| Holiday | None |
UNESCO heritage site, there's not too much left of an original construction though. After ticket purchase, short golf cart ride brings you to a start of a sightseeing route. There are good views of both sites of Okinawa from the top. Most of useful explanation is only in Japanese. It takes around 30 minutes to complete the tour of castle.
This castle is made of stones and totally abandoned for hundreds of years but you can still imagine the glorious days.
【6】Try the famous food at Yachimun Kissa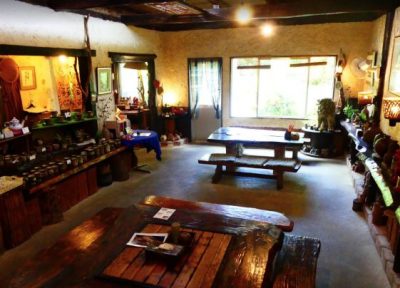 ▶:Start Google Maps Here!(Smartphone)
| | |
| --- | --- |
| Name | Yachimun Kissa |
| Address | 1439 Izumi, Motobu-cho, Kunigami-gun 905-0221, Okinawa Prefecture |
| Operating Hours | 11AM – 7PM |
| Holiday | Monday, Tuesday |
This cafe was perfect for a light snack prior to heading off to the hydrangea festival. They only have crepes in the way of food – one savory and one sweet option. Prices are good, and the fresh squeezed juices are heavenly. They also serve tea and coffee, and have a beautiful garden that you can explore at your leisure.
Shisa dogs are spattered around the property, and you can have fun spotting them in unlikely places. If you are lucky, you might convince the friendly owner to play a sanshin tune for you in the samurai tea house
【7】Shop all you want at Ryukyu Glass Village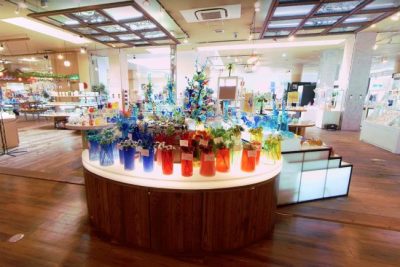 ▶:Start Google Maps Here!(Smartphone)
| | |
| --- | --- |
| Name | Ryukyu Glass Village |
| Address | 169 Fukuji, Itoman, Okinawa Prefecture 901-0345 |
| Operating Hours | 9AM – 6PM |
| Holiday | None |
Ryukyu Glass Village has a working area where glass blowers make Okinawa glass items. It was fascinating to watch the process. They offer workshops in glass craft. And there are two shops, with a range of items, of course many lovely Okinawa glass items made there, but also various kinds of clothes and Okinawa souvenirs.
There is a modest charge for the workshops, but otherwise everything is free entry. The prices on the items range from very low to very high.