Travelers who seek a nice place to stay in one of the major commercial cities in Metro Manila, you might as well consider Makati on your list.
Let me share my experience staying at "Herald Suites Solana" – one of the 3-star hotels that you can find in the 17th-largest city of the Philippines.
Herald Suites Solana|Feature Reference
Website
Herald Suites Solana
Address
2914 Finlandia corner, Einstein Street,San Isidro Makati City, Philippines
Contact Number/s:
+63 2 844-7733
+63 2 339-0151 to 53
Price Range
P2,500 ~ up (discounted price)
Room Types
Superior Room (w/view)(35㎡)
Superior Double or Twin Room (37㎡)
Deluxe Room(61㎡)
Deluxe Double(65㎡)
Junior Suite(75㎡)
Check-in Time
2 PM
Check-out Time
12 noon
Hotel Facilities
FREE WIFI, Pool, Gym, Sauna, Restaurant
Room Inclusions
Safety vault, Air conditioning, Desk, Sitting area, Shower and bathtub, Bathrobe, Hairdryer, Free toiletries, Toilet, Slippers, Telephone, Cable channels, Flat-screen TV, Refrigerator, Electric kettle
Toiletries
Shampoo, Shower gel, Lotion, Cotton Buds, Tooth Brush & Toothpaste, Hair cap
Booking Site
Expedia
agoda
Booking.com
Mode of Payment
Credit cards are accepted
Herald Suites Solana is a subsidiary of Herald Suites (located in Chino Roces Avenue, Makati) which is also one of the well-known 3-star hotels in the metro.
The hotel has a total of 40 rooms of different types and sizes.
Although the place is like a remote area, the room we got was peaceful and comfortable enough for a one night stay.
Upon checking in at the front desk, we were asked for a P500 security deposit which was returned upon check out.
Additional guest has an extra fee of P900.00.
Access from Ninoy Aquino International Airport (NAIA)
It's about 4.8 kilometers away from the airport or 20 – 30 minutes by car/taxi/grab service depending on the traffic condition.
Airport shuttle service is available but make sure to contact the hotel prior to the check-in date.
Hotel Review
Reception Area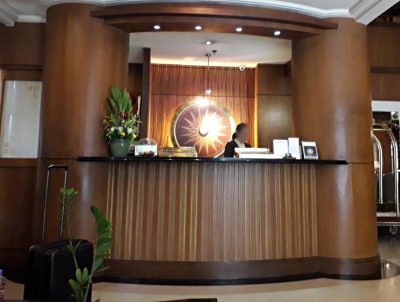 Elegant-looking reception area and a polite staff, this hotel has truly made an impression at the very beginning of our stay!
The Bedroom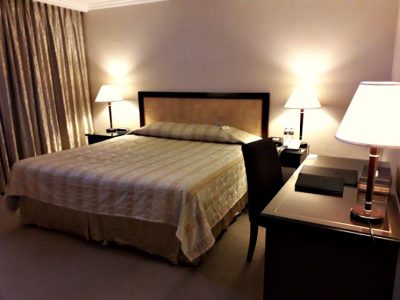 The room has 1 queen size bed and 2 pillows (with an extra pillow inside the cabinet, a desk at the corner, mini bar, and a wardrobe.
Pool Area (Penthouse)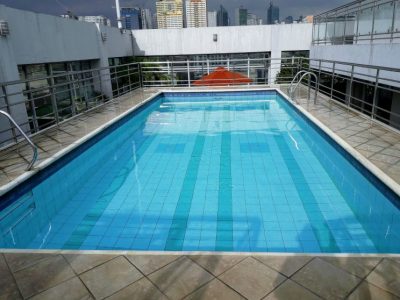 The pool area was great knowing that it is on the penthouse. Swimming can really be fun with beautiful sky view and not-so-deep water level just suitable for a not-so-tall lady like me.
Gym (Penthouse)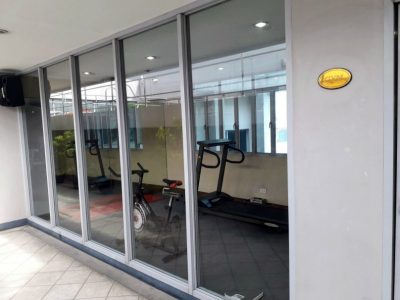 The gym equipment is limited but quite new and still working well. It also has air conditioning and the overall space was decent.
Lounge/Waiting Area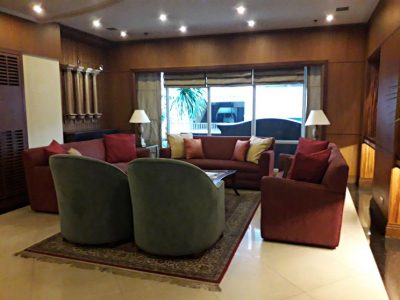 What's more impressive than this spacious waiting area with comfortable sofa for the guests to relax while waiting.
Hotel Restaurant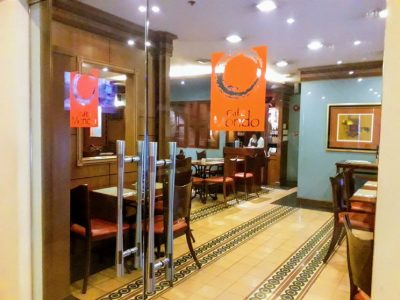 I would say that the place is not that wide but it is well-maintained plus the staff was friendly and accommodating.
How to book Herald Suites Solana
Booking for the hotel is available online via booking.com, expedia, agoda and hotel's website. Mostly, the cheapest rate that you can find is with agoda.
Cons of Herald Suites Solana
Facilities
Loving the idea that it has bathtub facility so we could soak into a hot tub but the problem during our stay was the bathtub drain stopper was missing so we need to call for assistance.
Also, I find the bed a little uncomfortable to sleep.
Location
It is safe to walk around the hotel area in the morning but it's a bit scary at night and it is not so near to some famous establishments.
Remarks
I had a great time staying at the hotel as it is way better than the others that I've tried so far. I just hope that they will make sure that everything's ready so the guests won't have any inconvenience while using the hotel/room facility.
Also, the complimentary food choices were satisfying enough!
Would I recommend it to others? A big Yes!