Traveling to Boracay for the first time is probably the most exciting part of my travel journey. I have always been dreaming of the famous white sand beach and it did finally come true this year (2019).
To sum it all up, Henann Lagoon served as my first shelter for 2 nights, and it did not disappoint me. The ratings all over the internet are true, this resort is one of the bests in Boracay!
Henann Lagoon Resort|Feature Reference
Website
Henann Lagoon Resort
Address
Station 2, Boracay Island, Malay Aklan, 5608 Philippines
Contact Number/s:
(+63) 2 353-7777 (Manila office)
(+63) 36 288 2828 to 32 (resort)
Price Range
P6,000 – up
Room Types
Deluxe Room (40㎡)
Premier Room with Pool Access (44㎡)
Suite with Plunge Pool(48.9㎡)
Grand Room with Pool Access (50㎡)

Family Room(54.5㎡)
Executive Suite(106㎡)
Family Room(54.5㎡)

Check-in Time
2:00 PM onwards
Check-out Time
12:00 PM
Amenities
Swimming Pool, Spa, Restaurant/Cafe, Airport Shuttle, Bar, Spa, Fitness Center
Room Inclusions
Free Wifi, Bottled water, seperate Bathtub and Shower, Flat-screen TV with cable channels, etc.
Toiletries
Shampoo, Conditioner, Shaver, Shower gel, Lotion, Cotton Buds, Tooth Brush & Toothpaste, Hair cap
Booking Site
Expedia
agoda
Booking.com
Henann Lagoon was proclaimed as the winner of 2016 World Luxury Hotel Awards, and 2017 Travelers Choice Awardee from the famous Tripadvisor site.
Access from Caticlan Airport
I traveled from Manila to Aklan and it took almost an hour via Air Asia economy flight. After the getting off the plane and getting the luggage, I talked to the information desk/ticketing area and the staff offered a transportation package which includes guides and 3 transpo rides: van, boat 8from Caticlan Port transfer, and another van going to the resort for only 750 per person.
The travel time from Port to Boracay is approximately 15 minutes and trust me, you'll never feel bored looking at the clear blue water while sitting on the boat.
Hotel Review
There are about 222 rooms for guests accommodations. Each room has fridge and coffee maker, plus complimentary wireless Internet access and LCD TV with cable channels, and a very relaxing balcony. The hotel also offers a set of free bottled water that will be replenished every day, or you can simply asked for a refill by dialing the housekeeping ext. number.
You'll be asked to pay the following charges at the property. It is highly recommended if you have credit card/s (same as the one you used when booking online). The deposit costs P2,000 pesos per stay, and the resort fee is P275 pesos per person.
Room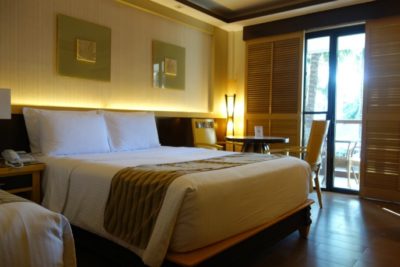 Luxury bed, and a decent sofa await those who choose to book this hotel! The fact that the pillows compliment this huge bed which is clearly visible on the picture, no wonder I always had a comfortable sleep during my 2-night stay in this hotel.
Bathroom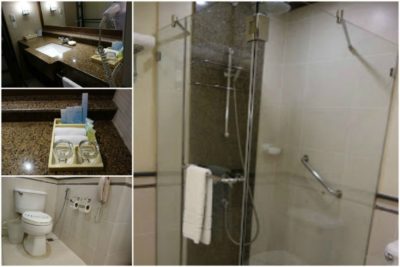 The bathroom area has a shower room, buthtub, separate toilet, bidet, hairdryer, and free toiletries.
Swimming Pool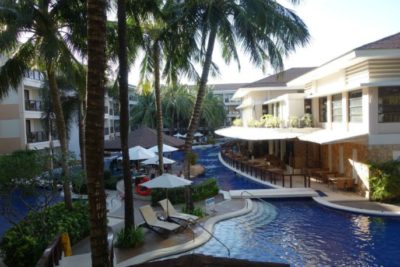 The pool is also child-friendly and the staff on duty is very reliable for the customers safety while enjoying the pool. What I loved most was the great scenery of tall coconut tress while swimming.
Restaurant
"Lagoon Cafe"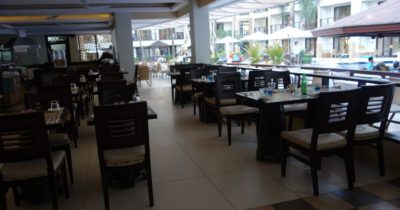 alt="" width="400″ height="236″ class="alignnone size-medium wp-image-7419″ />
A spacious restaurant located just beside the Lagoon pool. This is where the buffet, and other food and drinks are served. The attentiveness of the staff is also commendable and you can feel more relaxed because of the beautiful scenery and the welcoming gestures of everyone in charge.
How to book Henann Lagoon Resort
Booking for the hotel is available online via booking.com, Expedia, Agoda and hotel's website. Mostly, the cheapest rate that you can find is through their website.
Remarks
My 2-night stay at Henann Lagoon Resort was one of the best moments of my journey in Boracay. I love how friendly and accommodating the staffs are. The lagoon pool is very impressive and must try! Nice clear turqoise water, and a wide swimming area to enjoy.
Cons:
Mosquitos were everywhere in the room especially at night. Beware and always make sure to bring mosquito lotion for your young ones.