Living in a place where "Time is Gold!", you'd eventually feel the need to relax, enjoy the beauty of nature, and even explore the wonders of the ocean not so far away from the metro.
Who says it isn't possible to do adventure near Metro Manila? Anilao, Batangas – the famous diving spot in Luzon is just 2 hours away by public transport!
Let me welcome you to a 5-star resort "La Chevrerie Resort & Spa" in Anilao, Batangas where you can have an extraordinary stay and diving experience!
La Chevrerie|Feature Reference
Website
La Chevrerie Resort & Spa
Contact Number
+63917-7033320
Address
052 Barangay Ligaya, Anilao, Mabini, Batangas, Philippines, 4202
Price Range
P10,000 ~ up
Room Types
Deluxe Room(43-sqm)
Suite Room(82-sqm
Check-in Time
2 PM
Check-out Time
12 PM
Amenities
Pool, Restaurant, Spa, Diving Shop
Room Inclusions
Free Wifi, Complementary Drinks: Water, Coffee, and Milo
Toiletries, Bathroom, Hairdryer, Wardrobe, Bathrobes, Towels, Desk, Flat-screen cable TV, Electric Kettle, Airconditioning
Toiletries
Shampoo, Conditioner, Lotion, Cotton pads, Cotton Buds, Tooth Brush, Toothpaste, Hair caps
Booking Site
Expedia
agoda
Booking.com
Mode of Payment
Cash/CC Visa, Mastercard
"La Chevrerie", literally means "The Goat's Place" in French, is a luxurious resort located in Anilao – Mabini, Batangas. The architectural concept is a combination of a French and personalized style that turned out really impressive.
It has a total of 13 spacious rooms with unique wall decors in every corner. You can enjoy sleeping in a huge bed or have a relaxing time in the shower area, indeed a wide one.
Upon the arrival at the hotel, we were welcomed with fresh calamansi drinks (that tasted so delicious and refreshing!) and some friendly staff who helped out in carrying our heavy luggage.
I will never forget the goat houses just beside the entrance of the hotel. It's quite unusual for me because I often see dogs and not goats inside a pet's house. Haha!
Access from Manila
If you are coming from Manila via bus(Buendia Bus Terminal), it'll take you 2 hours or less to Batangas Grand Terminal. The transportation fee is P157 for adults and P125 for children and students provided that you have your student ID.
From there, you need to ride the jeepney with a signboard "Mabini" and get off at Mabini Crossing or Mabini Public Market for P36 per head. Travel time is approximately 40 minutes or more depending on the traffic condition.
Lastly, take another 10 to 15-minute tricycle ride going to the Hotel for P120 (special ride).
Additional info:

Hotel Review
The Lobby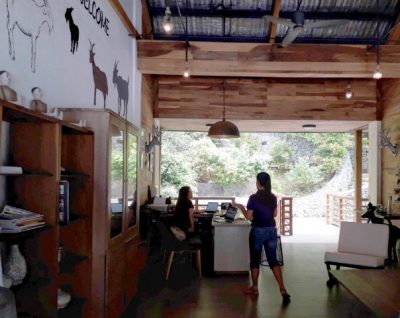 This is the resort's lobby with a lot of deets on the wall and a very good ocean view from afar.
Room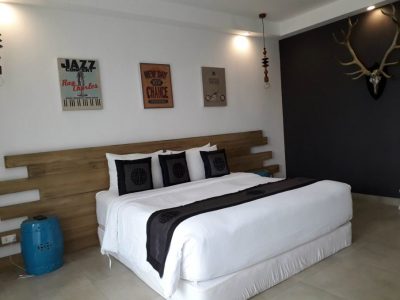 Wide bed with lots of pillows just perfect for me and my family. The room area is really very wide that I can even do cartwheel. lol!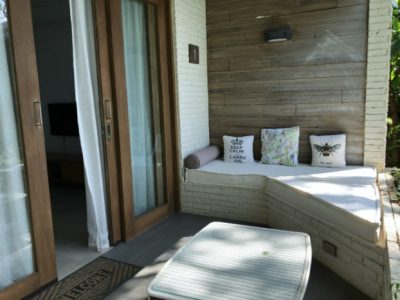 The mini balcony has soft sofa bed which is a good spot for stargazing at night.
Pool Area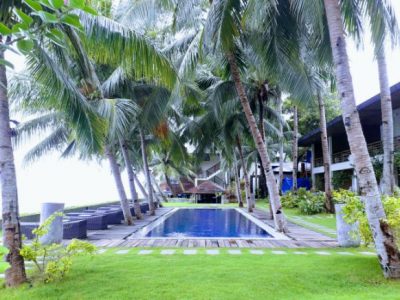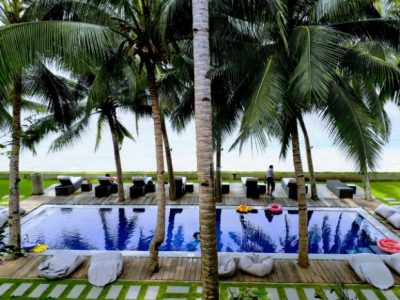 This was where we enjoyed most because we couldn't get to the sea due to the typhoon. It's a bit deep for me but I was able to manage swimming and the water was really cold at first.
L'atelier Restaurant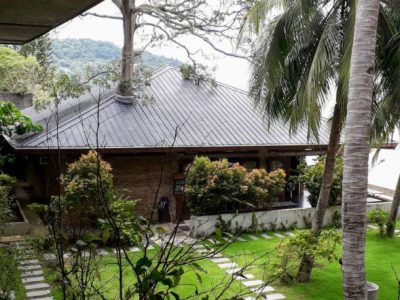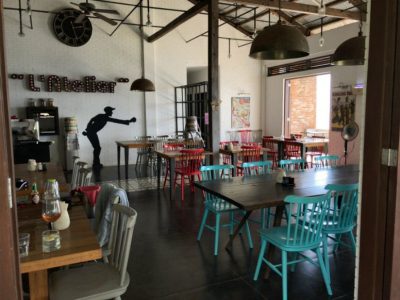 To be honest, the restaurant's food menu was really one-of-a-kind! I'm guessing that the chef prepared our food with "lots of passion" so the taste was indeed world-class!
Diving Center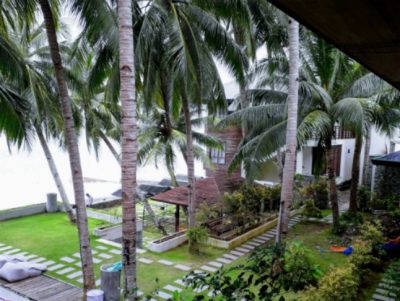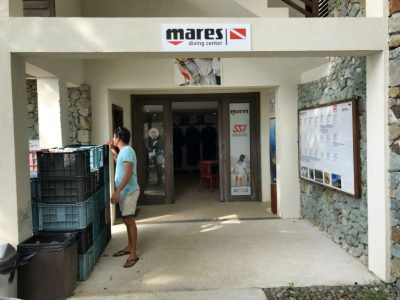 The diving center has lots of equipment from one of the largest scuba-diving brands "Mares".
Our dive master Mr. Justin was very patient in teaching us how to survive underwater. Knowing that we've only been to diving a few times, we felt safe because he took care of us.
In addition, we were supposed to have 2 dives but the boat suddenly broke its propeller so we can no longer move to another dive site. Yeah, it's indeed disappointing because one of the reasons why we came here was to dive but we cannot really complain as it was the force of nature that stopped us from doing what we wanted to.
How to book La Chevrerie Resort and Spa
Booking online is available thru:
Agoda, Booking.com, Expedia and resort's official website.
Cons of La Chevrerie Resort and Spa
Price
I think that it's a bit pricey not only the room rates but even the restaurant's food are also expensive.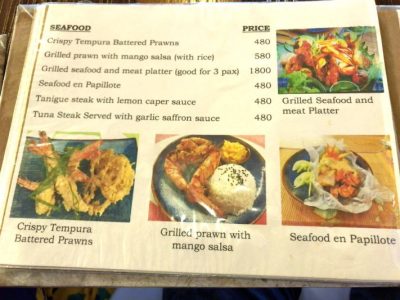 Location
It really is in a secluded area and far from grocery stores or local restaurants.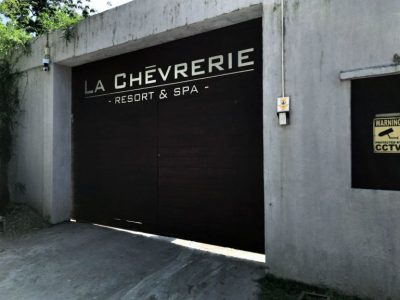 Remarks
The overall experience was unforgettable as it was my first time to stay in a 5-star resort. My family and I could have enjoyed more if it wasn't typhoon season.
I will surely come back if given the chance someday! Would I recommend it? Yes, if you are looking for a great place to spend your special occasions away from the city life.