Recommended restaurant in Shibuya this time is Ramen: Ichiran.
Brief background:
The company was established in 1993 and has been running for 25 years now. Having a total number of 74 shops as of 2017 here in Japan and abroad, this company has indeed proven its name in the food and beverage industry. It aims to provide delicious foods and excellent service to its customers while maintaining a healthy lifestyle.
Ramen: Ichiran|Feature Reference

▶:Start Google Maps Here!(Smartphone)
| | |
| --- | --- |
| TripAdvisor | Ichiran(score:4.5) |
| Business Hours | 24/7 |
| Category | Ramen Shop |
| Budget | ¥1,000 |
| TEL | +81-3-3463-3667 |
| Address | 1-22-7 Jinnan, Iwamoto Bldg.B 1F, Shibuya 150-0041, Tokyo Prefecture |
| Business Holiday | None |
| Access | JR Shibuya Station |
| Seats | 21 |
| Credit Card | not accepted |
| English Menu | Yes |
| Smoking Establishment | No |
Access from the Station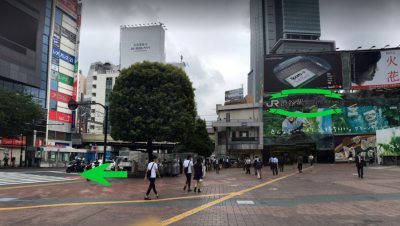 From JR Shibuya station, cross the pedestrian lane as shown in the picture and continue walking straight ahead. You'll see the famous clothing brand (Zara) as one of its landmarks. The travel time on foot is just approximately 2 minutes.
Appearance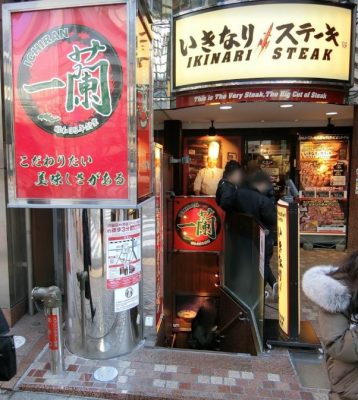 It is located on the first floor of Iwamoto Bldg-B. The outside view is not really noticeable for a foreigner like me because it's just their company's logo/banner and unfortunately, I cannot read Kanji (Japanese characters) so it is best if you research its name first and take a screenshot if you must to avoid getting lost in the busy district of Shibuya. Also, expect long lines because this place is really very popular here!
Nearest Landmarks: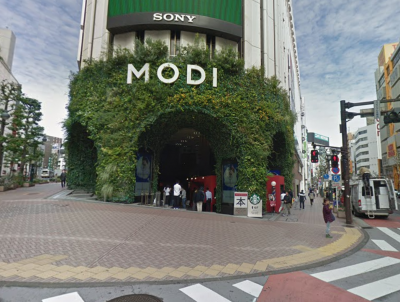 One of its landmarks is the famous clothing brand (highlighted in the picture) and the place where Ichiran is situated.

Ambiance
Counter table and seats
Vending Machine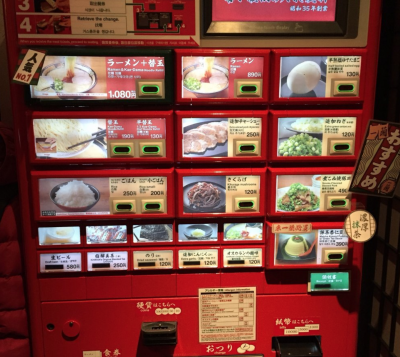 This is where you can customize your order. Make sure to insert your money first before pressing the right buttons.
The atmosphere is just a like the other ramen shops that you can find here in Japan. There are about 21 seats available for customers. The place is not so spacious enough if you are dining in with family or group of friends because it is really crowded every single day. It's best for single diners or some couples for dating.
Since this ramen shop has been widely known even for foreigners, you'd expect to see random people, both locals and foreigners.
Recommended Menu
IChiran's Classic Tonkotsu Ramen with matcha pudding.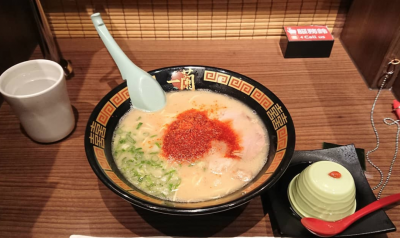 The best part is, the customers can choose or customized their ramen based on their own preferences such as the thickness of the noodles, the consistency of the soup and the amount of the added toppings.
Additional information
Pros:
Open 24hrs
Near the station
Children are welcome.
Delicious and authentic ramen.
Customized order menu.
Cons:
Long lines every single day
cannot accommodate large groups
People's Review
Fresh-cooked noodles, rich, savory broth, the perfect amount of spice, WITH a few slices of pork and a half-cooked egg PLUS premium sliced pork ! #ichiranshibuya #musttry #japantrip2017🎌
THE BEST ramen I've had. 📍Ichiran Shibuya pic.twitter.com/lepLjn9fxM

— L. (@dessoleyl) November 25, 2017
After watching @zel1g's YouTube video on Ichiran Ramen my husband and I had to try this delicious ramen in Shibuya. Thanks for the tip Zélig pic.twitter.com/YqP9snEmal

— Renae Lucas-Hall 📖 (@RenaeLucasHall) November 7, 2017