Recommended restaurant in Shibuya this time is Burger: Mad Burger.
Burger: Mad Burger|Feature Reference

▶:Start Google Maps Here!(Smartphone)
TripAdvisor
Mad Burger(score:4)
Business Hours
Mon – Sat
11:30 AM 〜 7:00 PM(LO – 6:45PM)

Sun
11:30 AM 〜 5:00 PM(LO – 4:45PM)

Category
Burger Restaurant
Budget
¥1,000 up
TEL
+81-3-6427-4989 (inquiry)
+81-50-5590-2865 (reservation)
Address
3-2-13 Shibuya | Takahashi Bldg. 1F, Shibuya 150-0002, Tokyo
Business Holiday
None
Access
Shibuya Station
Seats
33
Credit Card
Not Accepted
English Menu
Yes
Smoking Establishment
3PM onwards possible
Appearance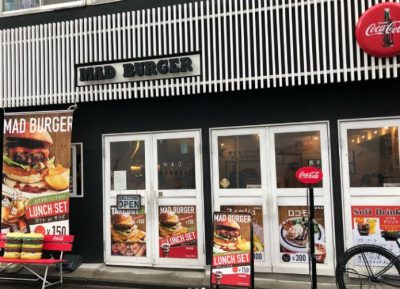 Lovin' the style of Mad burger's view on the outside. The mixture of black and white theme makes the place look even more classy. This place is really hard to miss because it is just right across Lawson store. Long lines can sometimes happen especially during peak hours.
Ambiance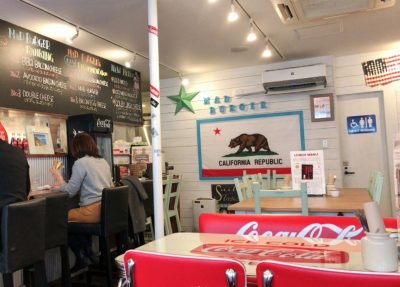 Mad Burger has a comfortable dining area with lots of coca cola logo everywhere particulary in their tables and chairs. The western-theme will bring you to another part of the world. lol!
Recommended Menu
Food Photos
"Barbeque Bacon and Cheese Burger"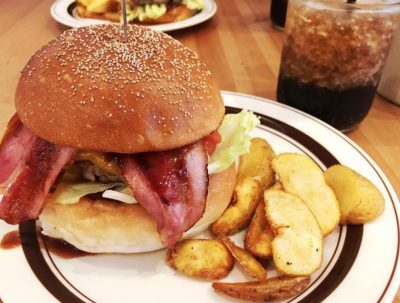 "Triple Cheese Burger"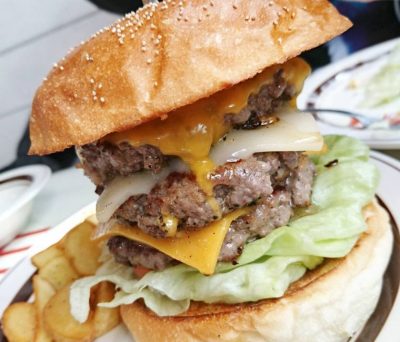 "Teriyaki Egg Cheese Burger"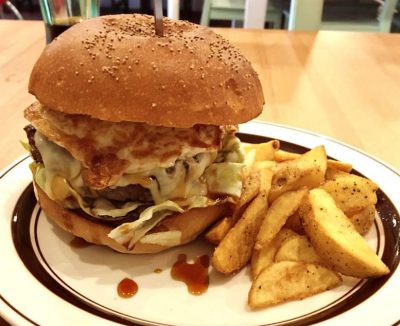 There are a lot of highly recommended foods from this restaurant but the most famous one is the triple cheese burger. As the saying goes, " The juicier, the better!"
Additional information
・Kids are welcome.
・Recommended when eating alone, with friends, or family.
・Services offered:
Available for takeout.
Accepting reservations for private use ( up to 20 people).
Accepting surprised birthday party accommodations and extended party hours up to 2.5 hours.
People's Review
🍔 チリバーガー👀 ハンバーガーを食べてこんなに感動したことはあまりない! 肉汁やばすぎ!腕にまで滴った(食べ方が悪いせいかも笑) 幸せだった~! * The best burger with a juicy meat I ever had! * #ランチ #おひとり様 #溢れだす #肉汁 #アメリカン #ハンバーガー #チリバーガー #食べた帰りに #ばったりJoeと遭遇 #日本にずっと住んでる人じゃないのに #なぜか彼が日本にいる時に偶然会う率がハンパない #マッドバーガー #渋谷 #lunch #Burger #american #ChilleBurger #Hamburger #MadBurger #foodporn #Tokyo #japanesesake
. . . あー、食べたい!食べたい!食べたい٩( ᐛ )و . . 過去pic………📷🍴💓 . . . #渋谷 #東京 #ハンバーガー #グルメ #ランチ #絶品 #肉汁 #パティ #オシャレ #一眼 #ミラーレス #カメラ女子 #写真を撮るのが好きな人と繋がりたい #肉食女子 #肉が好き #食べる女 #shibuya #tokyo #Japan #madburger #lunch #photo #delicious #potato #hamburger .