Travelers who seek a nice place to stay in one of the major commercial cities in Metro Manila, you might as well consider Pasay City on your list.
Let me share my experience staying at "Savoy Hotel Manila" – one of the 4-star hotels that you can find in a 1st class and highly urbanized city of the Philippines.
Savoy Hotel Manila|Feature Reference
Website
Savoy Hotel Manila
Address
101 Andrews Ave, Pasay, 1300 Metro Manila, Philippines
Contact Number/s:
+63 2 317 2869
Price Range
P5,000 – up
Room Types
Superior Queen Room; Superior Twin Room(23m²)
Deluxe Queen Room; Deluxe Twin Room (27m²)
Deluxe Suite(35m²)
One-bedroom Suite(47m²)
Executive Suite(50m²)
Check-in Time
2:00 PM – 12:00 AM
Check-out Time
12:00 PM
Amenities
Swimming Pool, Gym, Spa,Family Room, Free Airport Shuttle, Bar, Spa, Fitness Center
Room Inclusions
Free Wifi, Complementary Drinks & Snacks, etc…
Toiletries
Shampoo, Shower gel, Lotion, Cotton Buds, Tooth Brush & Toothpaste, Hair cap
Booking Site
Expedia
agoda
Booking.com
All 684 rooms have bathrobe and slippers promising a pleasant stay, as well as a fridge and coffee maker. In addition to WiFi (free) and minibar, flat-screen TV with cable TV is standard equipment.
The hotel is not surrounded with tourist spots though you can still enjoy going to your preferred destinations here in Makati in just one ride.
Access from Ninoy Aquino International Airport (NAIA)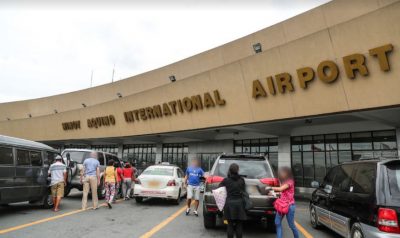 It's about 2.1 kilometers away from the airport or 10 – 15 minutes by car/taxi/grab service.
Hotel Review
Room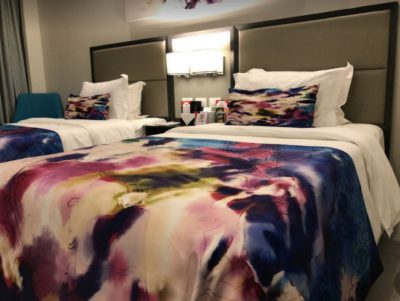 This is the Deluxe Twin Room with complete amenities! It sure does provide comfort and style in one.
Bathroom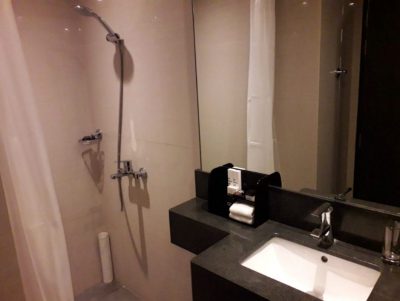 The bathroom area has Walk-in shower, Toilet, Bidet, Hairdryer, and free toiletries.
Cabinet and Minibar
This is where you can find hanging bathrobes, hangers, vault, cups, utensils, electric kettle, and mini refrigerator.
Toiletry Section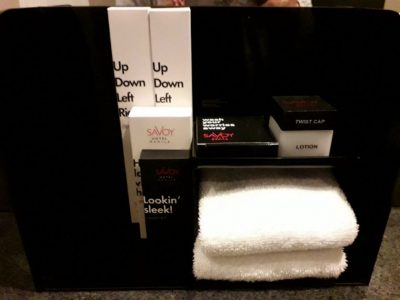 Here's a glimpse of the free toiletries that you can use while staying at the hotel.
View of NAIA Terminal 3 (from the room)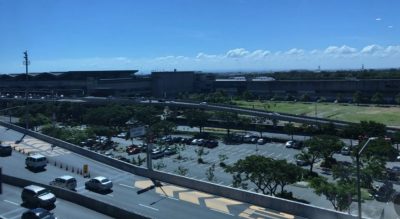 It really has the perfect view of NAIA terminal since it's just few minutes away from the aiport, and it is also walkable!
How to book Hotel Savoy Manila
Booking for the hotel is available online via booking.com, Expedia, Agoda and hotel's website. Mostly, the cheapest rate that you can find is with agoda.
Cons of Savoy Hotel Manila
Lack of amenity
There is no dining table that can be used for in-room service. Hope the hotel has dining table even for two people.
Remarks
I'd give this place an 8.5 out of 10. This verdict is based on my personal experience wanting for some lacking amenities like dining table and bathtub(for relaxation after long travel) but I'd say that this place is one of the elegant hotels I've known.
I highly recommend this if you are looking for a place to stay which is really walkable from/to Ninoy Aquino International Airport!