Makati is one of the famous cities in Metro Manila. It is widely known for its Skyscrapers and a variety of shopping malls.
Introducing one of the recommended 3.5-star hotels "V. I. P. Suite" for your staycation in Makati.
V.I.P. Suite|Feature Reference
Website
V.I.P. Suite Hotel
Address
1847 Evangelista, Makati, Metro Manila, 1230, Philippines
Contact Number/s:
+63 2 887 3345
+63 2 887 3346
+639228635329
Price Range
P2,000 ~ P4,000
Room Types
Standard & Standard Twin(20㎡)
Twin Deluxe(25㎡)
Suite Deluxe(30㎡)
Executive Suite(40㎡)
Check-in Time
2 PM
Check-out Time
12 PM
Hotel Facilities
Restaurant
Room Inclusions
Safety vault, Air conditioning, Desk, Sitting area, Sofa, Hardwood/Parquet floors, Shower, Hairdryer, Bathrobe, Free toiletries, Toilet, Bathroom, Slippers, Bidet, Telephone, Cable channels, Flat-screen TV, Minibar, Refrigerator, Electric kettle, Wake-up service
Toiletries
Shampoo, Conditioner, Body Soap, Lotion, Cotton pads, Cotton Buds, Tooth Brush & Toothpaste, Hair cap
Booking Site
Expedia
agoda
Booking.com
V.I.P. Suite is suitable for travelers going to Manila specifically in Makati. It has a total of 26 rooms and dormitory style rooms with 10 beds.
It offers elegance and comfort in one ad it is quite impressive how this hotel managed to provide a grand stairway minus the elevator.
The hotel is not surrounded with tourist spots though you can still enjoy going to your preferred destinations here in Makati in just one ride.
Access from Ninoy Aquino International Airport (NAIA)
It's about 3.5 kilometers away from the airport or 16 – 20 minutes by car/taxi/grab service.
24-hour airport shuttle service is available but make sure to contact the hotel prior to the check-in date.
Hotel Review
The Bedroom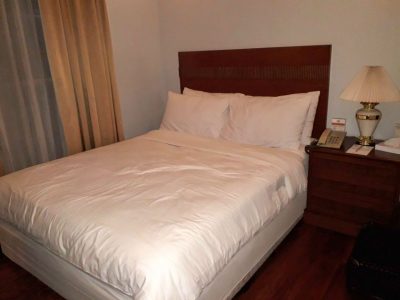 The room has 1 queen size bed and 4 pillows, a desk at the corner, cabinet, and a not-so-spacious balcony covered with fitted (immovable) curtains.
The Balcony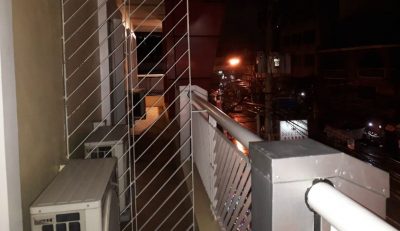 A not-so-wide balcony space but still good enough to witness the view outside.
Sofa/Entertainment Area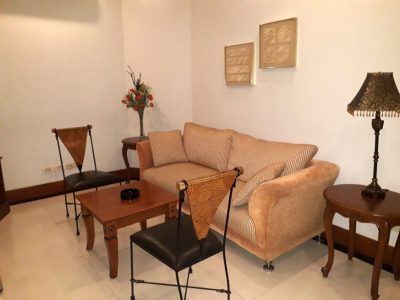 Impressive couch/sofa good for relaxing while watching movies on the flat-screen.
Hotel Restaurant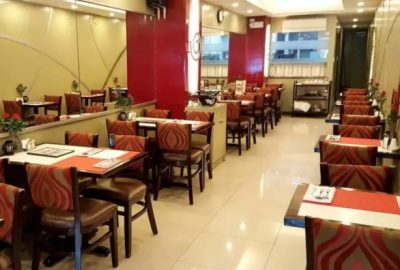 This is the hotel's restaurant that is usually open only in the morning. Not so spacious but obviously well-maintained.
Reception Area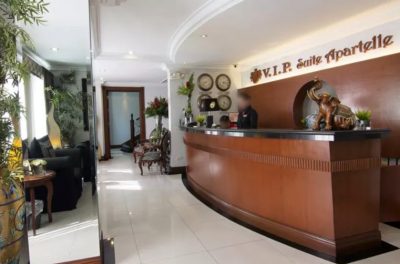 What I love most is the detes that you can find here. There are a lot of wall decors and the sculpture of the elephant looks so cute.
How to book V.I.P. Suite
Booking for the hotel is available online via booking.com, expedia, agoda and hotel's website. Mostly, the cheapest rate that you can find is with agoda.
Cons of V.I.P. Suite
Sanitation and Facilities
The room smelled like cigarette smoke. I don't know why it smelled as if someone just finished smoking because our room is a non-smoking(area). Also, the flat-screen tv wasn't working during our 1-day stay.
Location
Although the place is in the metro, it's still one ride away from restaurants and malls especially on a rainy season or when you are not used to having long walks.
Noisy Environment
Even when the doors are closed, it is still undeniably especially the noise coming from the balcony.
Remarks
The overall experience was great given that we were treated nicely and the staff attended to our needs accordingly.
Kudos to all of the friendly staff who greeted us warmly and the security guard who took an extra effort in finding a good taxi for us on a rainy evening!