Recommended restaurant in (Greenbelt) Makati this time is Burger: 8 Cuts Burger Blends.
Burger: 8 Cuts Burger Blends|Feature Reference

▶:Start Google Maps Here!(Smartphone)
TripAdvisor
8 Cuts Burger Blends(score:4)
Business Hours
Sunday – Thursday:
11:00 AM to 11:00 PM
Friday – Saturday:
11:00 AM to 12:00 MN
Category
Burger Restaurant
Budget
P500~up
TEL
+63 2 625 2792
Address
2 Greenbelt Dr | Level 1,Ayala Center, Makati, Luzon 1223, Philippines
Business Holiday
None
Access
Greenbelt 2
Credit Card
Accepted
English Menu
Yes
Smoking Establishment
Non-smoking
Appearance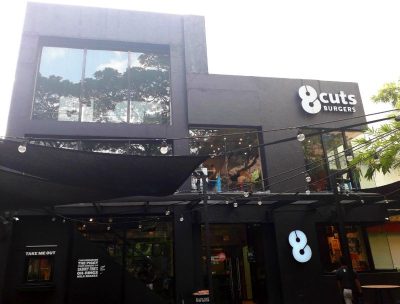 The exterior of the restaurant is indeed appealing because of its black themed color with its name well-displayed in white shade.
The building has two floors both has kitchen sections and whats even more interesting is the terrace or outer seating. It feels so relaxed while eating and being surrounded by trees, not your typical city space!
Long queue is not a major issue here because they do have plenty of space to accommodate the customers.
Ambiance
Table and Counter Seating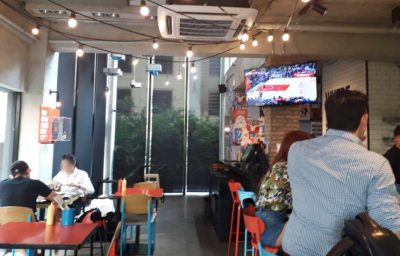 Outer Seating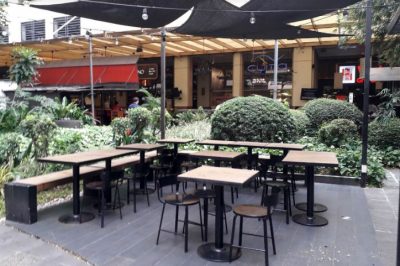 Well, the interior really looks cool with multi-mulicolored chairs that perfectly blend with the tables and the counter area.
I'd say the ambiance is very casual and it is comfortable to dine even if you are wearing your summer outfit.
There are plenty of counter and table seats available for all burger lovers out there. Whether you are dining alone, with friends or dating your loved one, this place is a good choice!
Most of the customers I've seen are Filipinos and Americans.
Recommended Menu
Classic A Meal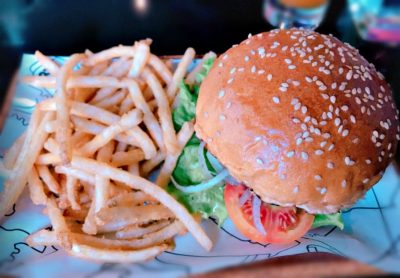 This classic A meal set is undeniably delicious! The burger is notably high in quality and preparation. Also one of the bests with cheaper a price! The juiciness of the meat is so addicting plus the fries are also tasty with appropriate amount of salt and it's really not oily!
Additional Information
Recommended for solo diners, with friends, dating, or family celebrations.
Available for take-out and delivery.
People's Review