Recommended restaurant in Odawara, Kanagawa this time is Seafood: Kaishū.
Kaishū|Feature Reference

▶:Start Google Maps Here!(Smartphone)
TripAdvisor
Kaishū (score:4)
Name
海鮮丼屋 海舟
Hours
Weekdays
11:00 AM – 5:00 PM

Weekends, Holidays
11:00 AM – 8:00 PM

Budget
¥1,000〜up
TEL
+81-465-24-2237
Address
1-14-55 Sakaemachi, Odawara 250-0011, Kanagawa Prefecture
Seats
52
Holiday
None
Access
Odawara Station
Smoking
Non-smoking
Card
Not Accepted
Access from the Station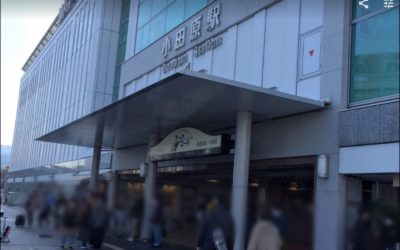 Kaisendonya Kaishū is located in a very convenient location just beside the main street towards Odawara Castle. The nearest station would be JR Odawara station and upon getting off, head towards the East Exit. You will reach the place in 3 – 4 minutes.
Appearance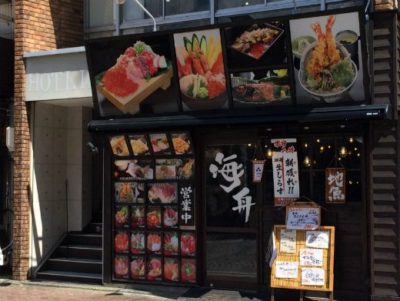 The restaurant's name is exhibited in Japanese writings and it has a lot of menus displayed on the wall together with the pictures. You can also find a menu book outside the shop so you can choose your order even before entering the dining area.
There was a long queue when I visited the place on a Sunday and the customers must list their names on the priority list and wait to be called once the seats are readily available.
Ambiance
The entrance is a bit narrow especially at the waiting area. Good thing is, they provide complimentary seats for those who are waiting in the line. A priority list is also provided where the customers can put their names on.
Dining area appears to be wider than I imagined it to be. The counter area is elevated so I needed to go down for a few steps to finally occupy the designated table and seat for me. The mahogany table and chairs gave me the idea that it is indeed a Japanese seafood restaurant.
Recommended Menu
"Omakasedon @ ¥2,000"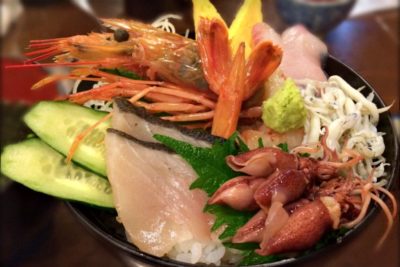 You will see this menu as the shop's most recommended dish! I couldn't agree more given that I have already tasted how fresh, and satisfying the taste of this bowl which is in Omakase style.
We were also asked the amount of rice that we wish to have, regular or large, and I obviously chose the large rice serving.
"Seaweed Soup"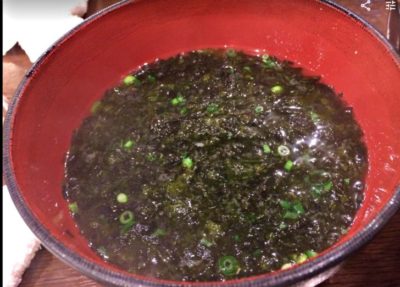 I guess the taste is comparable to the feeling of being with the sea, with nature. As refreshing as the air, and as healthy as nature provides for us.
There are other menus that you can choose from on a budget-friendly price. The shop offers Japanese, Chinese, and English Menu so foreigners can choose up to their own preferences.
"English Menu"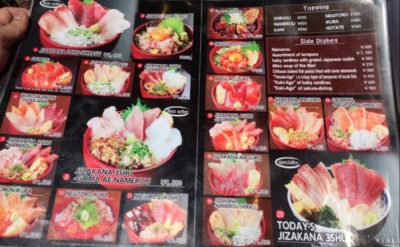 Here is the menu for foreigners that you can find outside the shop. There is also an English menu provided for the drinks.
Additional Information
Children are welcome here!
Recommended when eating alone, with family, with friends, with a coworkers, and for dating.
People's Review