Shinjuku is known to be the major commercial city in Tokyo because of its countless shopping centers, wide entertainment areas, great hotels, world-class infrastructures, and a lot more to offer! Yes, it is very popular among foreigners and also a great place to explore!
As a traveler, it is very important to value time, money, and experience when traveling. Yearning to avoid hassles or delays along the way while enjoying every journey you take. So take time to browse and search for the best method of how you can completely have a memorable adventure!
Real talk: Airport dilemma happens a lot! Here's some useful information that can aid you once you arrived in Japan. If you are coming from Narita International Airport, these are the 3 highly-suggested options when traveling to Shinjuku.
1. Keisei Skyliner
Considered as the fastest way when heading to Shinjuku! Comfortable seats and a shorter traveling time are what most travelers absolutely look forward to! The only downside is that there is no direct access from Narita to Shinjuku.
Get off at Nippori station then switch to JR Yamanote line to get to Shinjuku Station. If you are traveling alone, this option is not bad at all provided that you are not coming from a very long flight, no heavy luggage, and lucky enough to avoid the rush hour.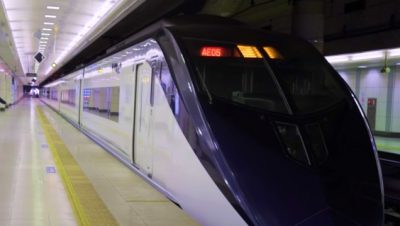 An impeccable iron horse!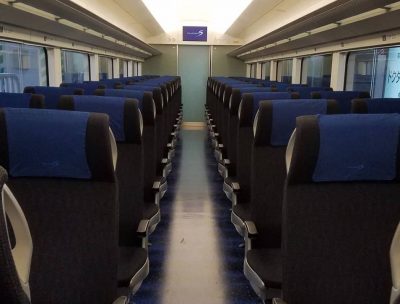 Aside from this neat-looking seats, Skyliner also has its luggage compartments for every passenger.
Keisei Skyliner | Feature Reference
Website Reference
Keisei Skyliner
Travel Time
less than an hour
Adult's Fare
¥2,470 bound to Nippori and Ueno Stations
Child's Fare
¥1,240 (almost 50% of adult's fare)
Seat/Ticket Reservation
Available at the Airport (Keisei Ticket Counter) and thru online reservation

Note: Don't forget to bring your e-voucher from online reservation and present it to the Keisei Ticket Counter to get your actual ticket.
2. JR Narita Express – NEX
Here's a better way to reach Shinjuku in no time! It will only take you about an hour and twenty minutes to get to your destination. The transport cost is ¥3,190 for adults for a single ride. Yep! It's more pricey than other means of transportation.
The best thing is you don't need to transfer from one station to another as it will take you straight to Shinjuku. So if you have extra money to spend, it is best to choose Narita Express.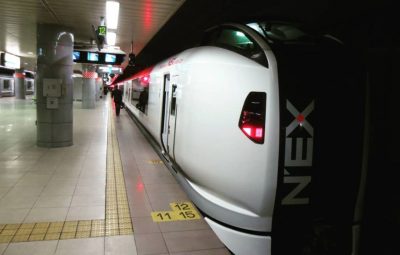 This is how elegant-looking JR Narita Express is!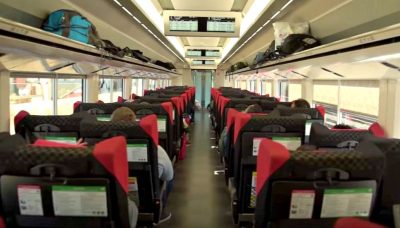 The comfy seats will make you travel with ease.
Narita Express | Feature Reference
Website Reference
JR Narita Express
Travel time
1 hour and 20 minutes
Adult's Fare
¥3,020 bound to Tokyo
¥3,190 bound to Shinagawa; Shibuya; Shinjuku; Ikebukuro
¥3,840 bound to Omiya
¥4,290 bound to Yokohama
¥4,620 bound to Ofuna
Child's Fare
Kids from 6 to 11 years old: 50 % discount of adult's fare
Babies up to 5 years old – travel for free
Seat/Ticket Reservation
Available at Narita Airport Station; Ticket Vending Machines; JR Service Centers
3. Airport Limousine
Considered as the most convenient way when heading to your hotel in Shinjuku! This airport limousine can bring you straight to your hotel if your hotel destination is part of its drop-off points. The price is somehow similar to Narita Express.
All you need to do is to sit back and relax. Please refer to their website to check if your hotel is one of its drop-off locations.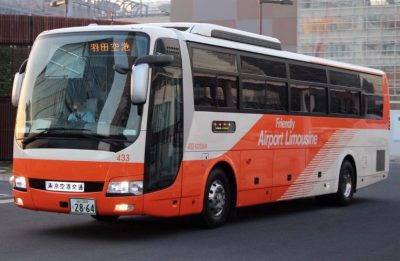 Stunning orange-themed limo bus!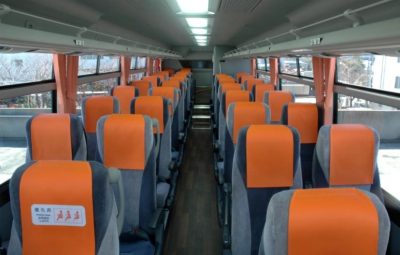 Just as expected of its seats, there was no hint of messy stuff.
Airport Limousine | Feature Reference
Website Reference
Airport Limousine
Travel time
1 hour and 10 minutes
depends on the traffic condition
Adult's Fare
¥3,100 bound to Shinjuku
Child's Fare
¥1,550 (almost 50% of adult's fare)
Seat/Ticket Reservation
Available at the Airport (Airport Limousine Ticket Counter)
and thru online reservation
Note: Transport fares are subject to change if you have promotional offers, discounts, and etc…